Animal Sanctuary's Facilities to Get a Boost from Marywood, UGS Partnership
FOR IMMEDIATE RELEASE
Marywood University
Contact:
Juneann Greco, PR Director
(570) 340-6004 (office) | (570) 840-4980 (cell) | greco@marywood.edu
Sheryl Lynn Sochoka, Publications Director
(570) 340-6087 (office) | (570) 510-3648 (cell) | sochoka@marywood.edu
Animal Sanctuary's Facilities to Get a Boost from Marywood, UGS Partnership
Scranton PA (October 18, 2023) - Marywood University's School of Architecture (MUSOA) is partnering with Arthur's Acres Animal Sanctuary and the University Gear Shop (UGS) in a groundbreaking initiative to enhance the sanctuary's facilities by increasing capacity for the rescue, creating an all-season center for animal rehabilitation, and creating a multi-purpose space for education. The partnership with Marywood allows interior architecture students to play a pivotal role in helping Arthur's Acres renovate the farm, while expanding their education.
Third-year interior architecture students will be embarking on a semester-long project to help with renovations and expansion to Arthur's Acres. At the end of the semester, 32 students will deliver a comprehensive, multi-phase plan to enhance the existing facilities and create a state-of-the-art barn tailored to animals with special needs. Students will not only gain real world experience, but learn about the importance of choosing cruelty-free and environmentally friendly options that will hopefully impact decisions they will make throughout their careers.
"Students strive to enrich lives and to inspire constructive change in the world. Their dedication for compassionate architecture serves as an influence for good in the lives of others and the world we inhabit, and this aligns perfectly with the vision of Arthur's Acres to serve and educate," stated Maria MacDonald, MUSOA founding faculty member.
Arthur's Acres is dedicated to rescuing animals that have been abused, exploited, or discarded. "We rehabilitate the animals we care for through patience, love, and respect," noted Todd Friedman, executive director and founder of the Parksville, N.Y.-based animal sanctuary.
The three partners will embark on this journey of transformation in the coming months, sharing their progress on social media. "Our goal is to leverage our expertise in marketing, social media, and technology to share the compelling story of Arthur's Acres and MUSOA's campaign," said William Boney, UGS executive vice president.
Follow this journey through a young pig named Mikey, who is symbolically "going to college" to provide a pig's perspective to the MUSOA students, as they design the Arthur's Acres Barn. To learn more about the work being done at Arthur's Acres Animal Sanctuary, visit arthursacresanimalsanctuary.org or follow their social media channels at @arthursacres on Facebook and Instagram, as well as their YouTube channel (@arthursacres).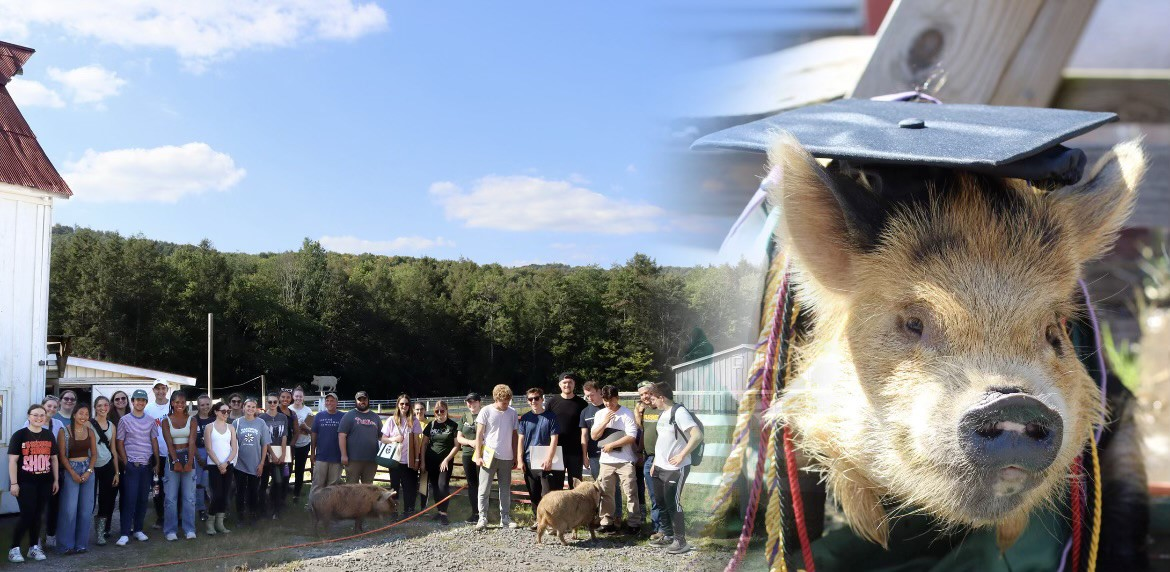 # # #