ASM Global & Misericordia University Occupational Therapy Department partner to develop sensory inclusive program at Mohegan Sun Arena at Casey Plaza
Three-tiered initiative entitled "Archie's Sensory Program" provides sensory regulation services for guests at arena events
ASM Global and Misericordia University Occupational Therapy Department partner to develop sensory inclusive program at Mohegan Sun Arena at Casey Plaza
Three-tiered initiative entitled "Archie's Sensory Program" provides sensory regulation services for guests at arena events
WILKES-BARRE (Tuesday, April 25th, 2023) – The ASM Global managed Mohegan Sun Arena at Casey Plaza in Wilkes-Barre Township in partnership with the Occupational Therapy Department at Misericordia University in Dallas, PA announced today the development of a new sensory services program for the arena. The program will provide additional sensory services and accommodations to guests with sensory needs at events at the venue beginning in May.
"Over the years, the ASM Global Team at Mohegan Sun Arena at Casey Plaza have developed partnerships in our community to host sensory friendly events such as our annual Halloween Trunk-or-Treat with Parenting Autism United, Touch-A-Truck with Monster Jam and Sensory Skates with Disney On Ice," said Stephen Poremba, Director of Sales and Marketing at the ASM Global managed Mohegan Sun Arena. "Employees within our ASM Global family have developed social stories and provided ticketing services and accommodations within our luxury suites for guests with sensory needs at concerts, family shows, graduations and more. We are honored and proud to partner with the incredible Occupational Therapy Team at Misericordia University to further advance our commitment to inclusivity for all guests. The partnership goes beyond the development of sensory friendly accommodations, as the Occupational Therapy Team at Misericordia is providing additional training for our staff members to recognize and assist families with sensory needs at our events. We find it only fitting that during World Autism Month, we come together today to officially unveil Archie's Sensory Program."
"Archie's Sensory Program has been a collaborative program developed on behalf of the Misericordia University Occupational Therapy Department and Mohegan Sun Arena," said Peyton Breinich, M.S., OTR/L Misericordia University. "As the literature indicates, the lack of sensory inclusive spaces prohibits families of loved ones with sensory processing difficulties from engaging in community outings and preferring the comfort and routine of their home. At Misericordia University, the charisms of the Sisters of Mercy drive educational curriculums and programs to embody the four charisms: Mercy, Service, Justice, and Hospitality. Archie's Sensory Program truly embodies the charisms of the Hospitality and Service. As a Pediatric Occupational Therapist and Post Professional Doctor of Occupational Therapy student, the development and creation of Archie's Sensory Program has provided a breadth of knowledge and skills that can be taken into my daily practice. It has given me the skills of program development, continuation of evidence-based research, and collaboration with key stakeholders. It is my desire to continue to promote a more inclusive world where everyone feels safe and welcomed. I hope that Archie's Sensory Program becomes a catalyst of a new wave of inclusion throughout other public spaces and environments."
Archie's Sensory Program, named for the beloved Misericordia University mascot, consists of a three-tiered, sensory services program consisting of Archie's Sensory Stories, Archie's Sensory Library and Archie's Den:
· Archie's Sensory Stories, produced by Peyton Breinich and Mike Gombita, provides guests with a downloadable video guide to help provide guests with sensory challenges an advance look at the arena and what to expect on their journey to and once inside the facility for an event.
· Archie's Sensory Library is a sensory services accommodations center located adjacent to the Guest Relations Booth behind section 110. Archie's Sensory Library includes sensory items that can be loaned to guests at events such as fidget toys, adult and youth noise cancelling headphones, sunglasses, and wiggle cushions.
· Archie's Den is located on the venue's suite level, away from the performance space and hockey rink. The room is aesthetically calming, with muted colors, dimmed lighting, LED light-up bubble wall water fixtures, stepping stones, sensory chairs, wall art and floor tiles. Children must be accompanied by an adult when using the room. Guests can obtain a sensory pass to utilize Archie's Den for free at Mohegan Sun Arena's Guest Relations Booth located behind section 110 on the venue concourse.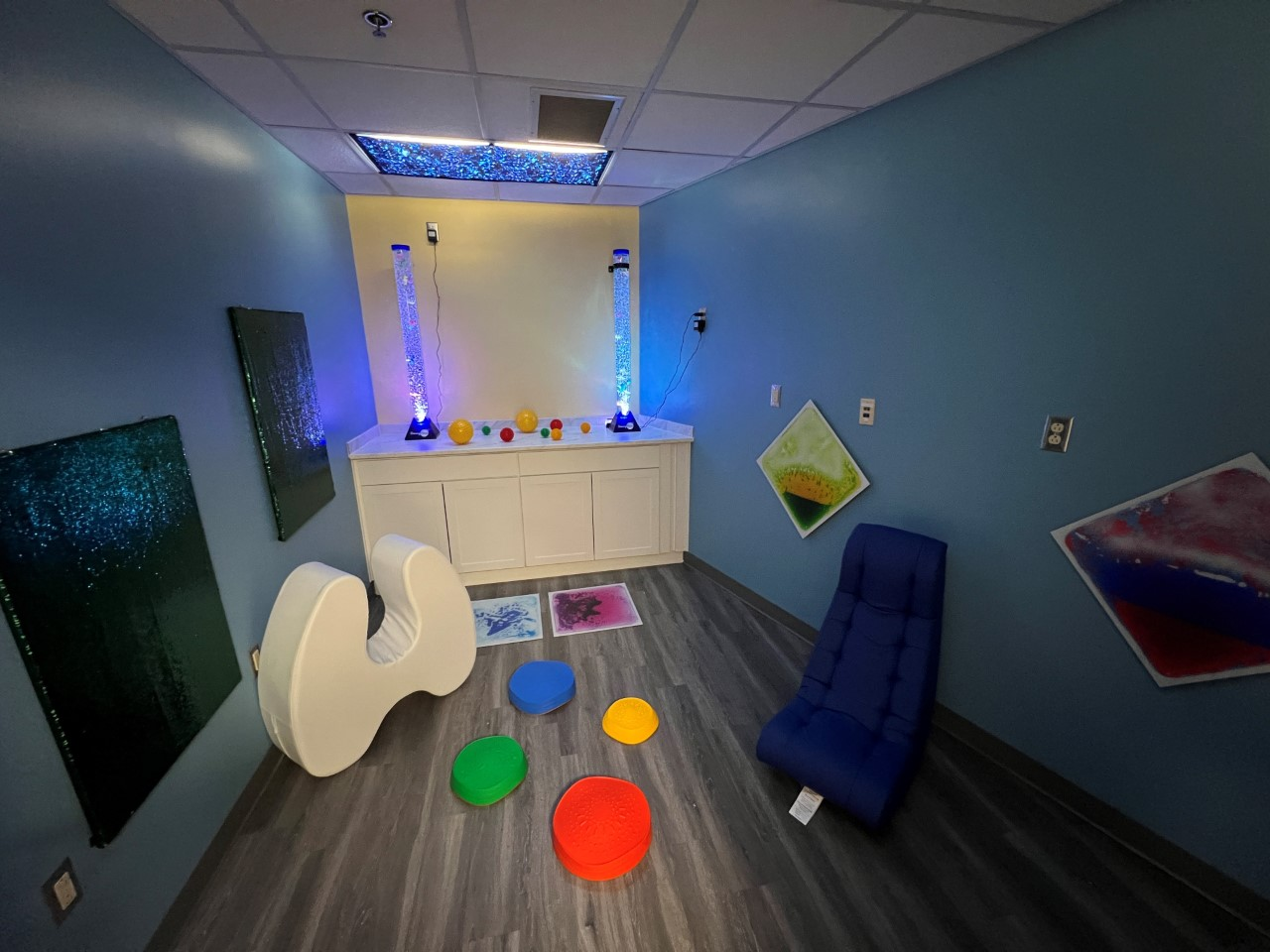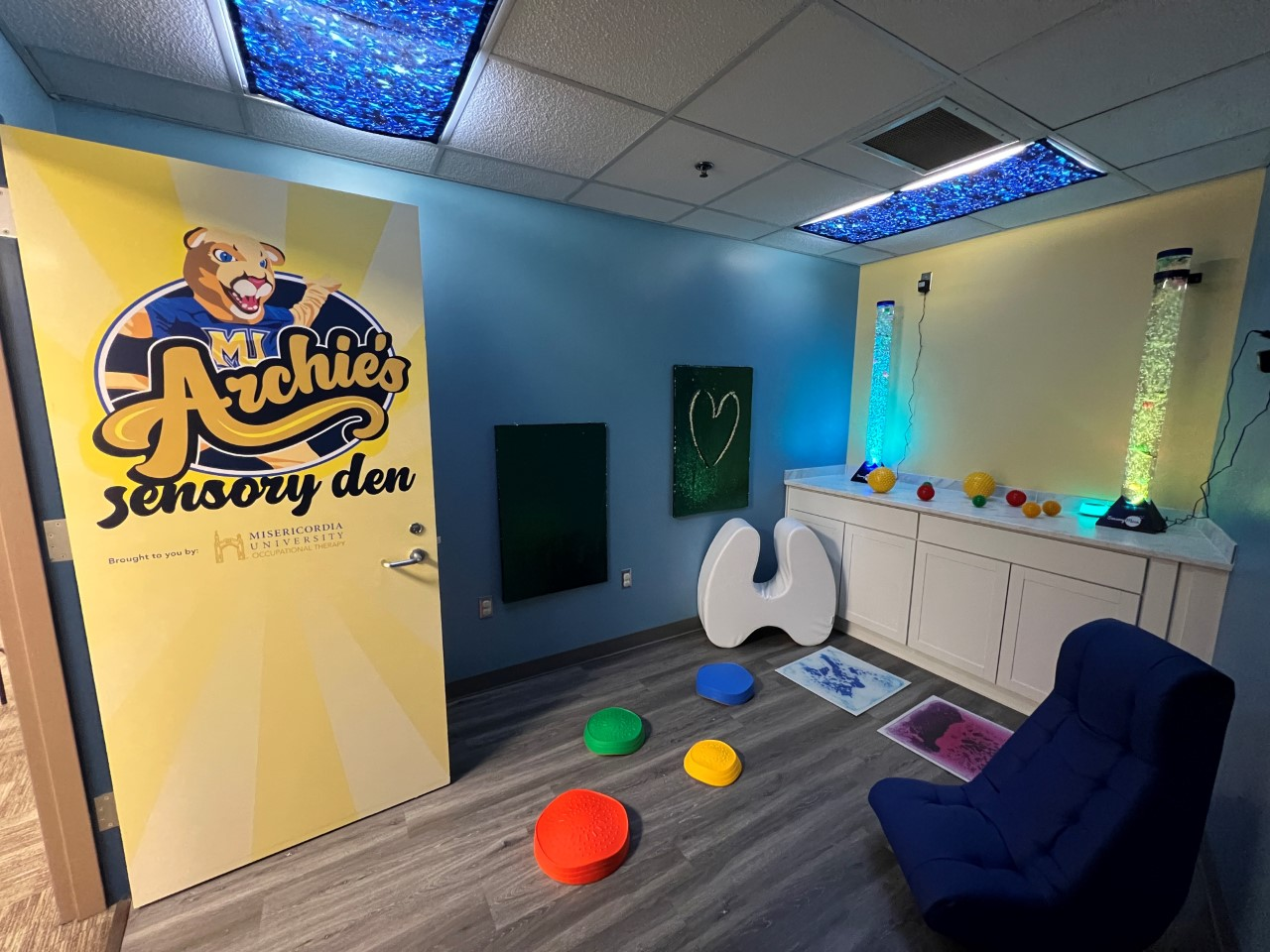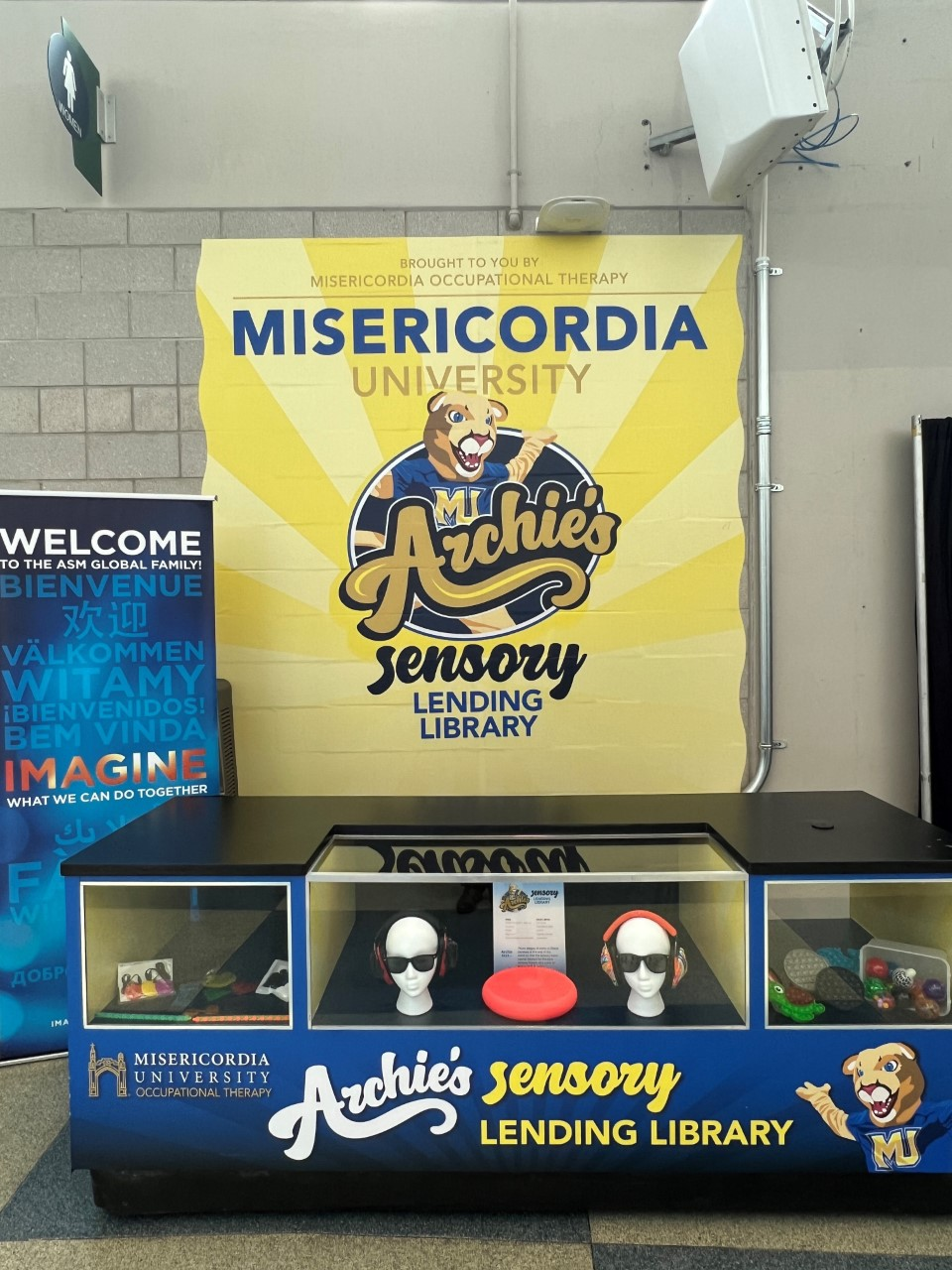 "This journey has been a wonderful, collaborative process with Misericordia University OT and the Mohegan Sun Arena," said Lori Charney, OTD, OTR/L, CAS Chair, Occupational Therapy Department at Misericordia University. "From the inception of the idea, it blossomed into an evidenced based project that matches a vast array of research on sensory processing, with the needs of the community. With ASD being at the prevalence level of 1:36 (CDC, 2023), we acknowledge that families are impacted with their interactions and participation in community events. Many times, families become limited with their engagement in leisure activities because their family member with sensory processing challenges cannot sit in the environment for the entire time of the event at the arena. The sensory challenges of bright lights, loud noise, etc. offer unique challenges for some. Our 3-tiered sensory program gives them the opportunity to have mechanisms to help their family member regulate their sensory system and enjoy the show. As an Advanced Mentored Clinician in Sensory Processing Disorder and a Certified Autism Specialist, I have been so excited to offer my knowledge and experience to this project in order to expand the opportunities for social engagement and leisure pursuits of the autism community. It has been a great experience working with OT Doctoral student, Peyton Breinich, OTR/L and Steve Poremba, Director of Sales and Marketing at Mohegan Sun Arena, along with staff from Misericordia University and the Mohegan Sun Arena to offer a more inclusive space for the community."
"I'm privileged to facilitate a connection between Misericordia University faculty and student experts at such a highly regarded community asset and entertainment venue – the Mohegan Sun Arena at Casey Plaza," says Jim Roberts, chief of staff at Misericordia University. "Both organizations share a core value of hospitality and a desire to make events more accessible for families of children with sensory challenges. The idea to pursue the project started with the university's Dean of the College of Health Sciences and Education, Dr. Barbara Schwartz-Bechet, Ph.D., who is an avid hockey fan and recreational player who noticed that the excellent experience most guests were having at the arena could be enhanced by additional sensory services."
"I became interested in developing a partnership with the Baby Pens who play at Mohegan Sun Arena, prior to COVID", said Dr. Barbara Schwartz-Bechet, Dean of College of Health Sciences and Education at Misericordia University. "Many pro and semi pro arenas have sensory friendly spaces and I thought the time was right to have one in our local arena. Jim Roberts and I went to Coal Street (practice facility and home of the Wilkes-Barre/Scranton Penguins) to discuss the development of a space that would provide sanctuary for those who are neurodiverse and could use a quiet space to relax during some loud or overstimulating events. They suggested that we go directly to Mohegan Sun Arena and work with them. Long story short, after COVID began to wind down, Jim Roberts and I met with Steve Poremba (ASM Global Director of Sales and Marketing at Mohegan Sun Arena), Will Beekman (ASM Global General Manager of Mohegan Sun Arena) and other team members at Mohegan Sun Arena. I provided a written proposal and indicated that we were willing to work together to find common ground to help the neurodiverse families be able to attend events and have a better, more inclusive experience. They were agreeable! I next brought in my chair of Occupational Therapy to see if her programs and the students in the programs would be interested in making this a reality and Lori Charney was immediately on board. As Lori and our excellent OTD student, Peyton Breinich began discussions with the arena staff and a date and time to meet, I submitted for a small community grant of $3500 and received it from Fulbright Canada of which I was eligible due to having been awarded a Canadian Fulbright Scholarship in 2021-2022."
"Peyton has done a marvelous job to date and I am thrilled that not only have Peyton, Lori and Steve been able to work on a sensory friendly space but have also created a lending library with calming materials for those who can stay in their seats and not need to go to the quiet area and also have developed support guides to the arena for families with children who are neurodiverse," said Schwartz-Bechet. "I am so very proud to be part of this amazing team!"
Archie's Sensory Program will be available for guests attending arena events starting with next week's Monster Jam event scheduled for four performances from May 5th-7th. Guests may access "Archie's Sensory Stories" in advance of an event online at MoheganSunArenaPA.com/Sensory.
###
About ASM Global
ASM Global is the world's leading producer of entertainment experiences. It is the global leader in venue and event strategy and management—delivering locally tailored solutions and cutting-edge technologies to achieve maximum results for venue owners. The company's elite venue network spans five continents, with a portfolio of more than 350 of the world's most prestigious arenas, stadiums, convention, and exhibition centers, and performing arts venues Follow us on Facebook, Instagram, LinkedIn and Twitter.
For more information, please visit https://www.asmglobal.com/