Johnson College Hosts Annual Scholarship Breakfast
Contact:

Abigale Sutton

Communications Manager
Johnson College

Office: 570-702-8928






FOR IMMEDIATE RELEASE

Johnson College Hosts Annual Scholarship Breakfast
SCRANTON, Pa. (November 9, 2023) – Johnson College hosted its annual Scholarship Breakfast today, November 9, at Fiorelli Catering in Peckville. The event was held to recognize the scholarship recipients and thank and honor the generous donors who make scholarships available to students.
The College awarded 53 students with scholarships. Stephanie Ropietski, a student in Johnson College's Veterinary Nursing program and recipient of Hawk Family Foundation Scholars and the Dr. George J. Hallesky Memorial Scholarships served as the student speaker at the event.
"The scholarships that have been awarded to me and so many of my classmates exhibit how Johnson College and all of the generous scholarship donors care about the success and hard work of today's students," Ropietski said.
She stated that these scholarships will help to alleviate the burden of the cost of school for many students, allowing them to focus on their students and strive for success.
The event also featured keynote speaker, Nicholas J. Scarnato '80, Treasurer of the College's Board of Directors and long-time supporter of the College and its students.
The breakfast concluded with the presentation of the scholarship awards by Katie Leonard, Ed.D., president and CEO of Johnson College, and Jeanine Engelmann, Ed.D., Chief Academic Officer of Johnson College. The presented awards included:
AAA North Penn Annual Scholarship, Brenden Sutton;
Alekna Memorial Scholarship, Nathan Dixon;
Edgar and Ida Alekna Scholarship Fund, Luke Galli;
Sebastian "Sebby" Amico Memorial Scholarship, Jallen Wilks;
Bartolai Family Scholarship, Robert Jenkins;
John K. and Mary E. Blackledge Memorial Scholarship, Rachel Butler and Mackenzie Gavin;
Margaret Briggs Foundation Scholarship, Jonathan Merlen;
Sean J. Calpin Automotive Technology Scholarship, Gabriel Gonzalez;
CMC Rich Vinansky Memorial Golf Tournament Scholarship, Trinaya Parker;
Vernon "Terry" Decker Scholarship, Blake Praschak;
P. Fricchione and Sons Scholarship, Jonathan Hunsberger;
John T. Gerod Scholarship, Richard Reed and Emily Royce;
Dr. George J. Hallesky Memorial Scholarship, Stephanie Ropietski;
Hawk Family Foundation Scholar, Stephanie Ropietski and Jordan Stine;
Thomas Hesser Scholarship, Zachary Menichello;
Frank & Jean Hubbard Scholarship, Chase Ferranti;
Jefferson Township Lions Club Scholarship, Tess Maher;
Orlando S. Johnson Merit Award, Jordan Bowen and Harrison Kubulis;
Johnson College Presidential Scholarship, Andrew Abrams, Michael Andrews, and Devin Walsh;
Janie Lamberton Memorial Scholarship, Jacqueline Albano;
Andrew Mazza Memorial Scholarship, Gavin Noll;
F. David Mercanti Memorial Scholarship, Robert Jensen;
Moffat Merit Award, Richard Bowen and Dravyn Falsone;
Ruth Stitt Morgan Memorial Scholarship, Kodee Bates;
Moses Taylor Foundation Careers In Care Scholarship, Neyleen Lugo, Tess Maher, Jonathan Merlen, Trinaya Parker, Bryce Shorten, Malana Vega, and Kayla Ward;
Motorworld Lexus Scholarship, Carter Albanese and Paolo Fiorini;
John R. O'Hara Scholarship, King-Shakim Rose;
Christopher Pambianco '65 Book and Tool Award, Benjamin Flowers and Jacob Holmes;
Thomas J. Perry Scholarship, Abby Bowen;
John R. and Maureen J. Pesavento Johnson College Scholarship, Jade Mcdermott;
Anthony Ploskonka Memorial Scholarship, Aaron Hall and Alyssa Nicholas;
Irene Ploskonka Memorial Scholarship, Jarrel Johnson and Ryan Phillips;
Pocono Mountain Street Rod Association Scholarship, Brenden Sutton and Hunter Landers;
Richmond Merit Award, Emma Danowsky;
Ross Family Foundation Scholarship, Alyssa Crawford;
Scranton UNICO Foundation Scholarship, Tobio Gallucci;
Society of Broadcast Engineers, Chapter II Scholarship, Michael Novotka;
Technology Merit Award, Tyler Connolly;
Islyn Thomas Achievement Award, Dylan Degroat;
Villa Capri Cruisers Car Club, Inc. Scholarship, Hunter Landers and Brenden Sutton;
And Ed Vogel Memorial Scholarship of the NEPA Chapter of the Antique Truck Club of America, Laura Alleva-Cox.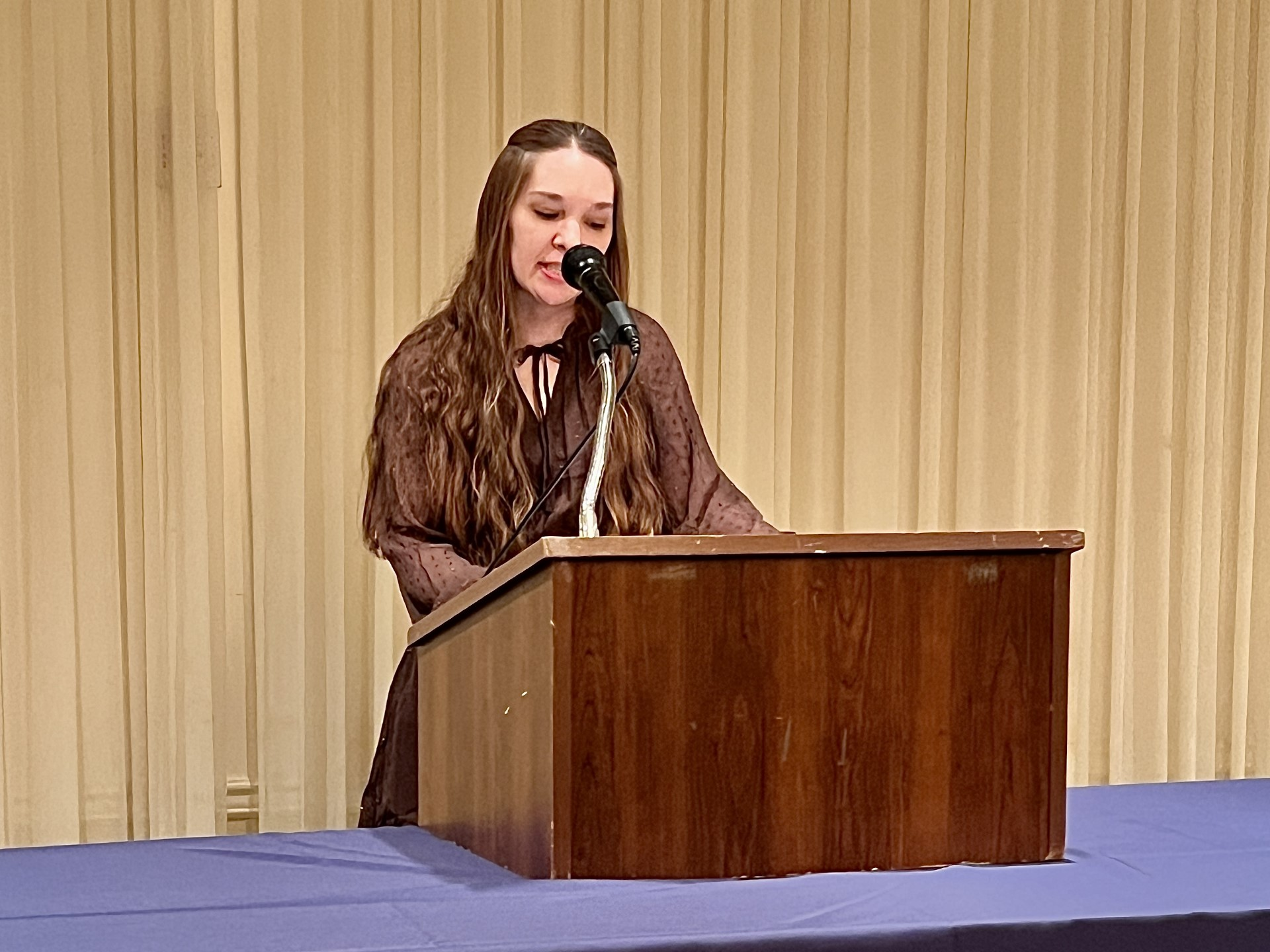 About Johnson College
Johnson College provides real-world, hands-on learning in a supportive environment and prepares graduates to enter into or advance in their in-demand careers. Johnson College was founded in 1912 and is the region's only technical college, offering 18 associate degrees, four academic certificates, and over 30 continuing education programs. A low student-to-instructor ratio supports an emphasis on hands-on learning. Located in Scranton on a 44-acre campus with a satellite campus serving the greater Hazleton area, the College is an accredited, private, non-profit, co-educational institution with a strong tradition of working with regional businesses and industries to ensure a skilled and qualified workforce. For additional information on Johnson College, please call 1-800-2-WE-WORK, email enroll@johnson.edu, or visit Johnson.edu.
Photo Caption
Stephanie Ropietski, a second-year student in Johnson College's Veterinary Nursing program spoke at the College's Annual Scholarship Breakfast at Fiorelli Catering. During the event, 53 students received scholarships from various community and industry partners.
###