Johnson College Hosts Celebration of Industry to Honor Industry Champion and Support Students
Contact:

Abigale Sutton

Communications Manager
Johnson College

Office: 570-702-8928
FOR IMMEDIATE RELEASE

Johnson College Hosts Celebration of Industry to Honor Industry Champion and Support Students
Scranton, PA (September 8, 2023) – Johnson College hosted its inaugural Celebration of Industry at its Scranton campus on Thursday, September 7, to celebrate the unique relationship between the College and its industry partners. Proceeds from the signature fundraising event exceeded $100,000 and will benefit the College's Innovation at Work Capital Campaign to improve programs and facilities for student success.
The College honored David F. Boniello '84, president of Simplex Industries, during the event for his leadership and contributions to, and on behalf of, Johnson College and the Northeastern Pennsylvania region. He was awarded the President's Spirit of Giving award by Dr. Katie Leonard, President & CEO of Johnson College. This award is an artistic representation of industry, community, and education made of steel and welded together in a flowing design. It was created by the College's Welding Technology Program Director, Tony DeLucca, and welding instructors, Ben Lipperini and Josh Perniciaro.
The event featured cocktails and dinner before beginning the award segment of the evening where members of Johnson College and Simplex Industries communities introduced Mr. Boniello including Dr. Leonard, J. Patrick Dietz, Senior Vice President of People's Security Bank and Trust and Chairperson of Johnson College's Board of Directors, and Pat Fricchione Jr., CEO and General Partner of Simplex Homes.
"When you work alongside Dave in any way, you have a friend for life. Someone who will cheerlead, advocate, and be brutally honest as needed," said Dr. Leonard.
More than 240 industry leaders, government officials, industry and community partners, and supporters of Johnson College joined the College in celebration as Dr. Leonard proudly bestowed the award on Mr. Boniello.
"As we think of Dave, he embodies all that this award represents – he gives so generously of his time, talent, and treasure," she said.
After graduating from Johnson College's Building Construction Technology program in 1984, Mr. Boniello became an active member of the College. He participated in Program Advisory Committees, became the first alum to be named Chair of the Board of Directors in 2016, and is now serving as Chair of the College's Innovation at Work Capital Campaign
In addition to his commitment to the College, Boniello has served Simplex Industries for over 30 years, climbing the ranks to his current role as President. He was an instrumental part of the company's efforts to launch its own retail division for home sales called Cornerstone Building Solutions Inc. of which he also serves as President. Mr. Boniello is also a former board member of the Lackawanna Home Builders Association and Home Builders Association of Northeastern Pennsylvania, along with the Women's Resource Center Golf Tournament Committee.
"I am truly honored and humbled at being selected with this honor by the College," said Mr. Boniello. "It has been very rewarding to me personally and professionally to be able to work with the College and help support the programs and efforts given by everyone."
Simplex Industries has been an industry partner with Johnson College for over 25 years. The relationship between these organizations continues to thrive with support from Mr. Boniello while it benefits both organizations and most importantly, the local community.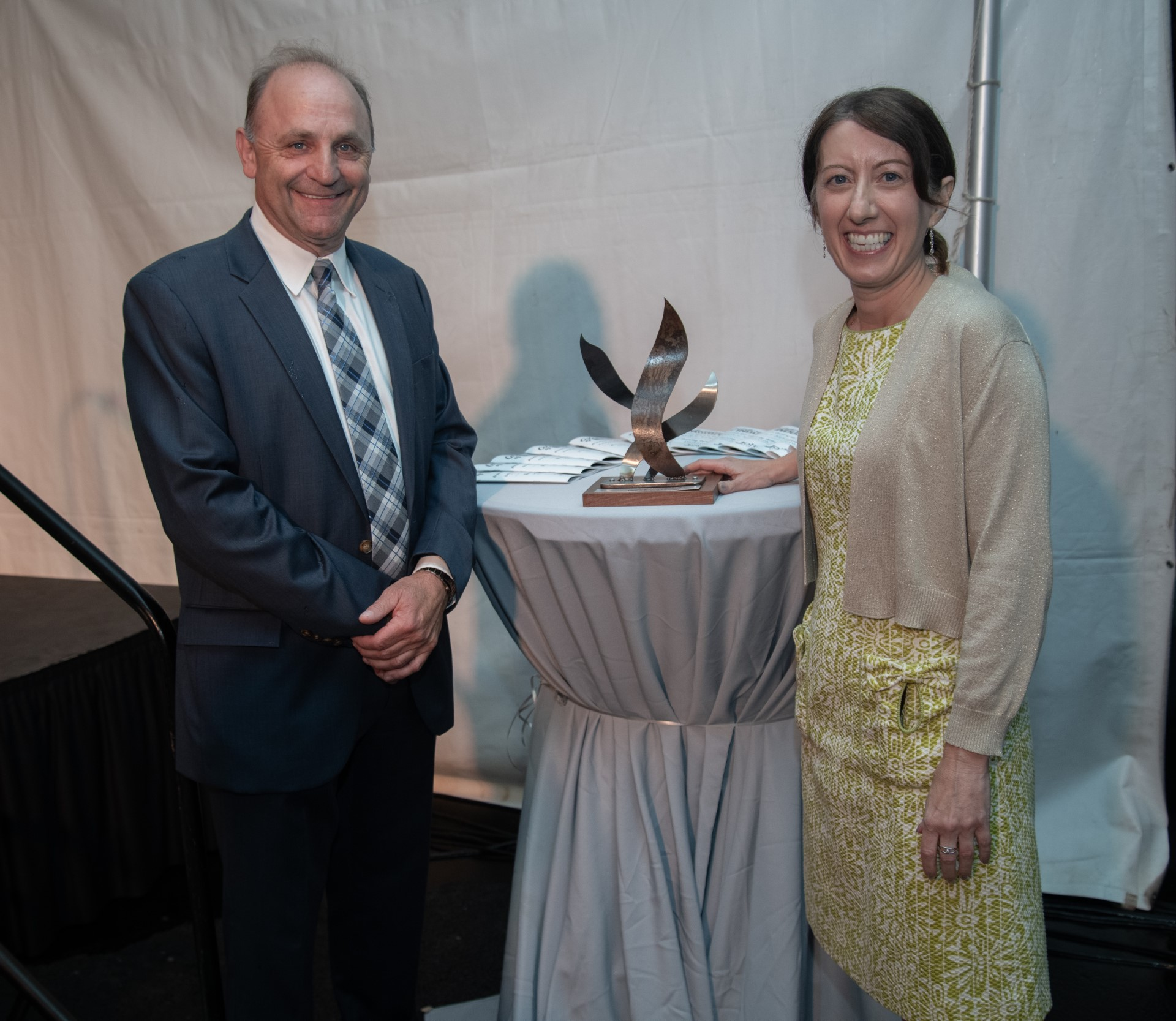 About Johnson College
Johnson College provides real-world, hands-on learning in a supportive environment and prepares graduates to enter into or advance in their in-demand careers. Johnson College was founded in 1912 and is the region's only technical college, offering 18 associate degrees, four academic certificates, and over 30 continuing education programs. A low student-to-instructor ratio supports an emphasis on hands-on learning. Located in Scranton on a 44-acre campus with a satellite campus serving the greater Hazleton area, the College is an accredited, private, non-profit, co-educational institution with a strong tradition of working with regional businesses and industries to ensure a skilled and qualified workforce. For additional information on Johnson College, please call 1-800-2-WE-WORK, email enroll@johnson.edu, or visit Johnson.edu.
Photo Caption
David Boniello '84, President of Simplex Homes, receives the President's Spirit of Giving Award from Dr. Katie Leonard, President & CEO of Johnson College, at the College's Celebration of Industry event on Thursday, September 7 at its Scranton campus.
###