King's College Launches First Doctoral Degree in Occupational Therapy and New Home in Rehabilitated Times Leader Building
King's College announced today it will launch its first doctoral program in the institution's 75-year history, the Clinical Doctorate in Occupational Therapy (OTD), beginning in 2024.
Wilkes-Barre, Pa., April 19, 2022—King's College announced today it will launch its first doctoral program in the institution's 75-year history, the Clinical Doctorate in Occupational Therapy (OTD), beginning in 2024. The addition of the accelerated doctoral program marks a pivotal new chapter in strengthening the College's academic offerings, particularly for high-demand health sciences careers in our region.
The new clinical doctorate, with a specialization in leadership, is designed as a fast-track "three plus three" program requiring six total years of study: three years within the Bachelor of Science in Exercise Science and minor in neuroscience and three additional years within the post-baccalaureate occupational therapy program. The OTD program also includes six months of clinical fieldwork and a 14-week doctoral capstone experience that will prepare graduates for high-paying careers with national average salaries around $86,000 and anticipated job growth of 17% over the decade.
"From our well-established programs in physician assistant and athletic training to our newer programs in exercise science, nursing, and nutrition, King's has delivered excellence for over 40 years in health sciences education," said Dr. Christopher O'Brien, dean of health sciences and associate clinical professor of sports medicine.
Alongside the announcement of the doctorate, the College also stated it will house the program in the former Times Leader Building on North Main Street in Downtown Wilkes-Barre. The facility will feature an expanded gross anatomy lab, hands-on interprofessional learning lab spaces, and, in the future, support the nursing program.
"The addition of our first doctoral-level program in occupational therapy, and the rejuvenation of the Times Leader Building in the heart of Wilkes-Barre, will expand the College's ability to meet the needs of Northeastern Pennsylvania and beyond by educating outstanding, innovative healthcare providers," Dr. O'Brien added.
The College purchased the mostly vacant building in February 2018 and has raised $3.5 million in Pennsylvania Redevelopment Assistance Capital Program (RACP) funds in support of its estimated $8 million rehabilitation. The renovation will convert the defunct building into a state-of-the-art, dynamic hub of teaching and learning that will bring more students, faculty, and staff downtown.
An IMPLAN economic impact study prepared by The Institute for Public Policy and Economic Development estimates the rehabilitation will generate over $11,300,000 and 63 jobs during construction and nearly 40 permanent jobs both at the College and downtown after construction. Overall, the project is estimated to produce an annual economic impact exceeding $9,500,000 and will infuse the city and surrounding community with talent, energy, and capital.
"This amazing process of rehabilitating the Times Leader Building into the home of the College's first doctoral program has been made possible because the collaborators in this project find deep meaning by seeking to improve the lives of the people they serve," remarked Rev. Thomas P. Looney, C.S.C., Ph.D., president of King's College.
Fr. Looney recognized the many government and community leaders working alongside King's on these improvements, including Mayor of Wilkes-Barre George C. Brown, State Representative Eddie Day Pashinski, State Senator John Yudichak, and Governor Tom Wolfe.
The project received a separate $400,000 grant under Pennsylvania's Industrial Sites Reuse Program (ISRP) to remediate the building of asbestos and other hazards. The rehabilitation will also include upgrades to the HVAC, electrical, and plumbing systems and improvements to flooring, elevators, roof, façade, and other site work.
Located directly across the street, the building will work in coordination with the Richard Abbas Alley Center for Health Sciences, which currently houses the College's competitive physician assistant, nursing, exercise science, athletic training, and nutrition science programs. The Alley Center also serves as the primary on-campus residential resource for health sciences students, creating a convenient living-learning community.
The College has appointed Jennifer Dessoye as associate clinical professor and department chair of the OTD program. Dr. Dessoye received her clinical doctorate in occupational therapy in 2010 from Misericordia University and her doctorate in educational leadership in 2021 from College of Saint Mary. She completed the Harvard University Management Development Program in 2019 and has expertise in pediatrics, entrepreneurial endeavors, innovation, and clinical leadership.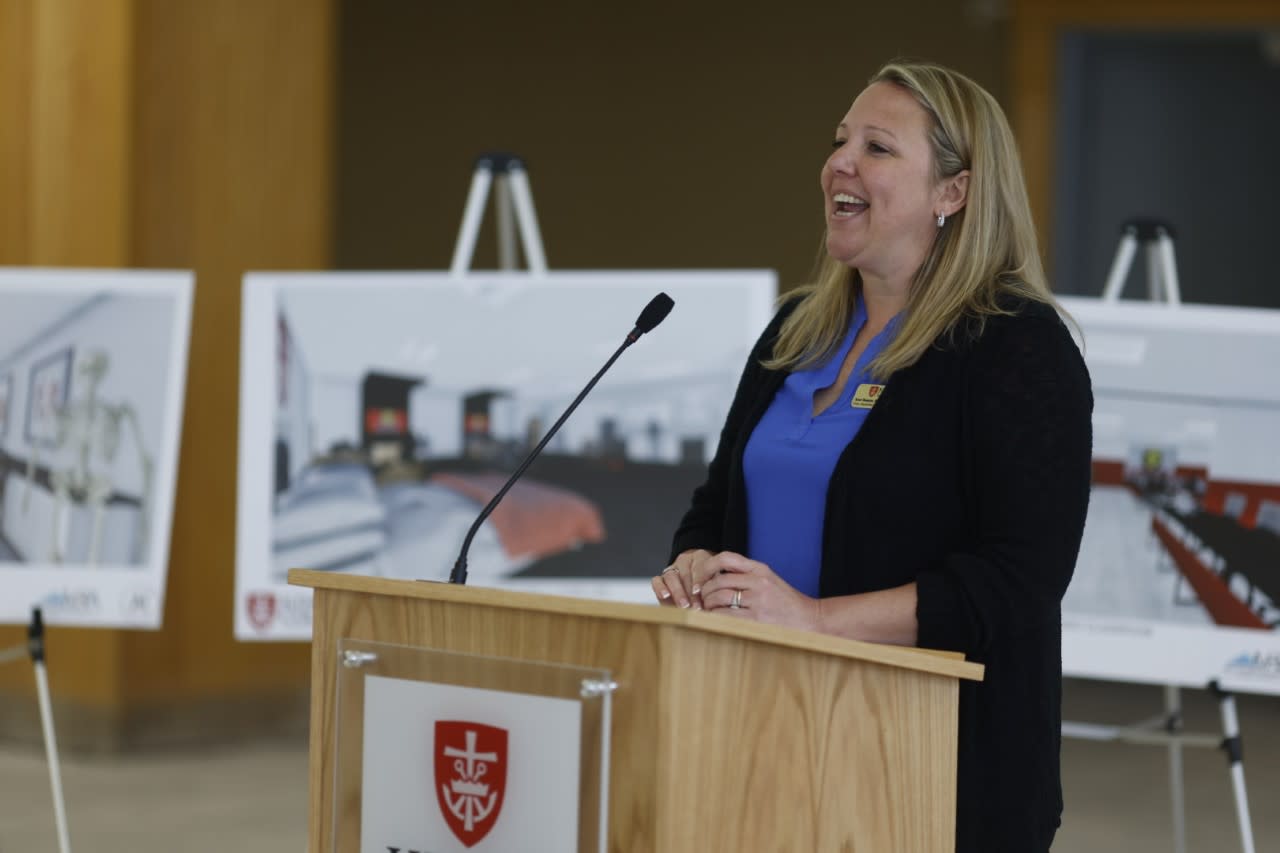 King's College has been granted Applicant Status for the OTD program by the Accreditation Council for Occupational Therapy Education. While the program cannot yet admit students to the post-baccalaureate program until Candidacy Status is awarded, the College is currently accepting applications for the three-year undergraduate Exercise Science – Occupational Therapy Track to begin this fall. To apply or learn more about the OTD program, visit kings.edu/otd or contact Dr. Dessoye at jenniferdessoye@kings.edu. Those interested in learning more about the Times Leader Building renovation should contact Thomas Butchko, associate vice president of procurement and chief facilities officer, at thomasbutchko@kings.edu.
###
About King's College—King's College is a Catholic institution of higher education animated and guided by the Congregation of Holy Cross. King's pursues excellence in teaching, learning, and scholarship through a rigorous core curriculum, major programs across the liberal arts and sciences, nationally accredited professional programs at the undergraduate and graduate levels, and personal attention to student formation in a nurturing community. To learn more about King's College, please visit kings.edu.