King's College Receives $1 million from Geraldine Ruddy Hourigan Estate
King's College recently received a gift of $551,000 from the estate of Geraldine E. Ruddy Hourigan for the Joseph T. Murphy Memorial Scholarship
Wilkes-Barre, Pa., August 1, 2022—King's College recently received a gift of $551,000 from the estate of Geraldine E. Ruddy Hourigan for the Joseph T. Murphy Memorial Scholarship. The gift was part of a larger estate contribution totaling more than $1 million.
Ms. Hourigan was a local teacher in the Wilkes-Barre Area School District and friend and supporter of the College who volunteered with the King's College Century Club. After her passing in Nov. 2019, the estate satisfied and distributed several generous gifts to area institutions and nonprofit organizations, including King's College.
"The family is delighted to continue to see more students receive scholarship support that helps them experience a King's education as part of Geraldine's legacy," said Peg Kiwak and Rosalie Hourigan, Ms. Hourigan's good friends. "As a schoolteacher, education was very important to Geraldine, and her legacy will live on through the students she will continue to help."
In 2018, Ms. Hourigan established the Joseph T. Murphy Memorial Scholarship at the College in memory of her late uncle who served as the managing editor of the Times Leader news organization. The scholarship provides tuition support for students of financial need studying in the William G. McGowan School of Business and to date, has awarded $27,900 to five students studying marketing, accounting, and management.
Lauren McLain, associate vice president for institutional advancement, said the gift has significant impact in funding scholarships and helping students with the greatest financial need finish their business degree. The funds are part of the King's College endowment, which is managed by the endowment investment professionals at the University of Notre Dame. Those interested in the McGowan School of Business can visit kings.edu/business to learn more about degrees offered.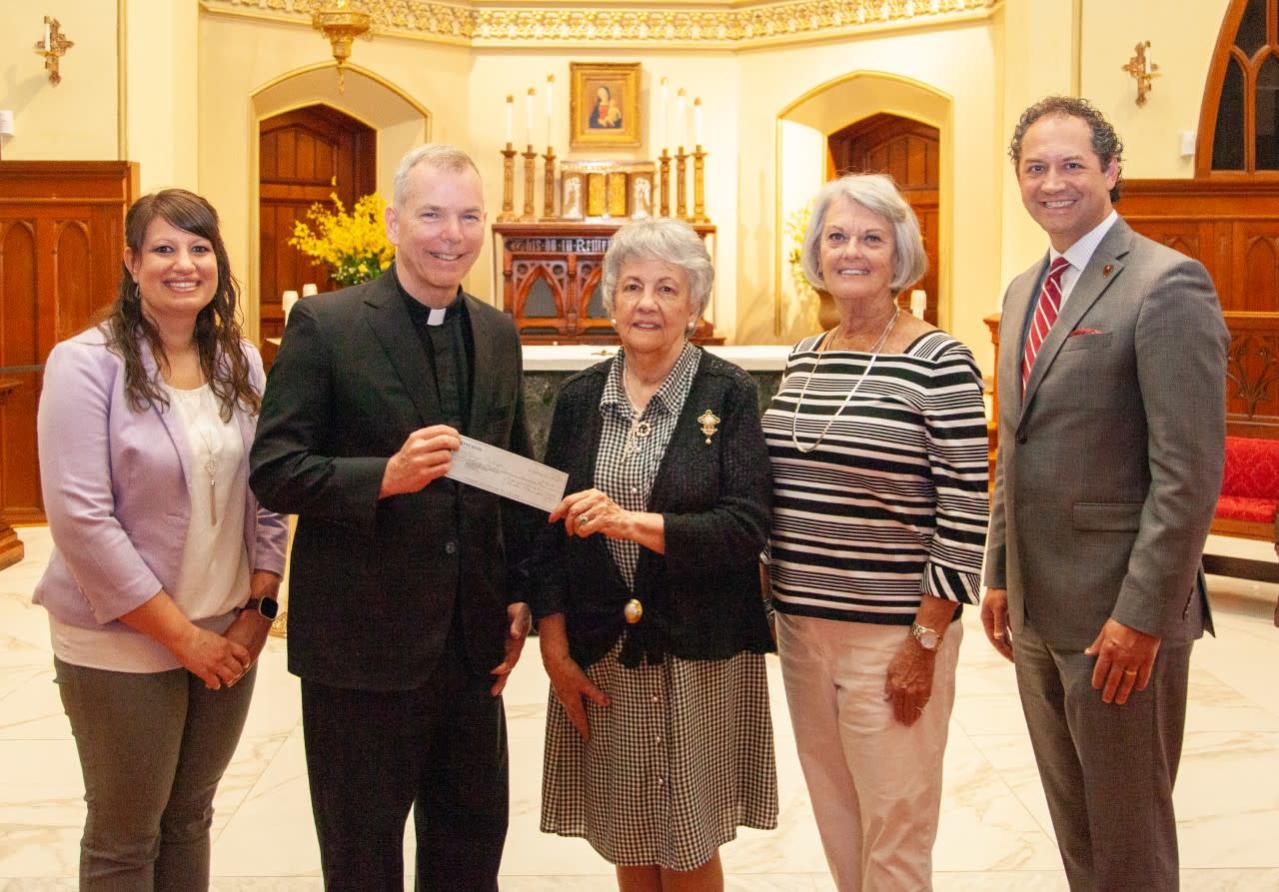 Photo Cutline: From left, Lauren McLain, associate vice president for institutional advancement; Rev. Thomas P. Looney, C.S.C., Ph.D., president of King's College; Rosalie Hourigan; Peg Kiwak; and Freddie Pettit, Esq., vice president for institutional advancement.
###
About King's College—King's College is a Catholic institution of higher education animated and guided by the Congregation of Holy Cross. King's pursues excellence in teaching, learning, and scholarship through a rigorous core curriculum, major programs across the liberal arts and sciences, nationally accredited professional programs at the undergraduate and graduate levels, and personal attention to student formation in a nurturing community. To learn more about King's College, please visit kings.edu.