LCTA and Sordoni Art Gallery Partner for Bus Shelter Arts Program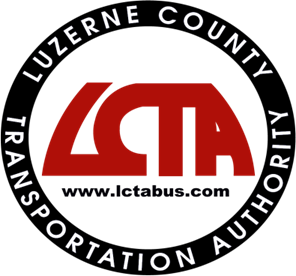 For immediate release: March 29, 2023
LCTA and Sordoni Art Gallery Partner for Bus Shelter Arts Program
Kingston, Pa. – Luzerne County Transportation Authority (LCTA) has partnered with Sordoni Art Gallery to create the LCTA Arts Program. The new program incorporates visual art into public transportation to enhance the experience of LCTA passengers and the communities LCTA serves.
"LCTA believes that art can be woven into public transportation to create a more enjoyable and aesthetically pleasing experience for passengers and the community as a whole," said LCTA Executive Director Bob Fiume. "Integrating art into our shelters will make them inviting by enhancing their appearance. We are excited to partner with the Sordoni Art Gallery on this project, which will hopefully be just the first."
"At the core of the Sordoni Art Gallery's mission is to make art accessible to all," said Heather Sincavage, Director of the Sordoni Art Gallery. "This means within our space, but also outside our walls. We are thrilled to partner with LCTA to integrate the visual arts into our everyday lives. Not only does it create a more beautiful community, it provides a spotlight on the rich talent in our region. We look forward to featuring art made right here in Luzerne County."
Artists will be asked to submit original designs artwork to be displayed on two LCTA bus shelters. One of the shelters is located in Wilkes-Barre, and the second one will be at a new location in LCTA's bus system. The artwork will be directly printed onto the glass back panels of the shelter.

The Sordoni Art Gallery will release the Call for Artists on April 10, with a June 9 deadline for artist submissions. Artist selection will be announced on July 1. Shelter installation is expected to occur in October 2023.
-30-
Press Inquiries:
Gretchen M. Wintermantel: ofc: (570) 288-9356, ext. 227; cell: (703) 868-6804