Description
7th Annual Small Business Christmas in July will be held on Thursday, July 21st, 2022.
Please join us in celebrating Christmas in July on Thursday, July 21st, 2022. Each year The Greater Wyoming Valley Chamber of Commerce and the Diamond City Partnership coordinate a Christmas in July Small Business event to help drive locals to patronize your small business!
This is a FREE promotional event for small businesses in our area.
To participate, please send over a special deal or discount to be listed on all marketing materials being used to promote the day. This could be a promotion you are already running or something you offer specifically for July 21st, 2022.
Deals from participating businesses will be featured on multiple platforms on July 21st, 2022
One page Advertisement in Local Newspapers
Social Media Publications throughout our social media pages.
Brochures, which will be placed at every participating business and handed out at Thursday's Farmers Market on the Square.
Businesses interested in participating are encouraged to register their business for the event. Participation in the event is FREE (the only requirement is that businesses offer a deal on the date of the event).
~~~~~~~~~~~~~~~~~~~~
Downtown Wilkes-Barre
~~~~~~~~~~~~~~~~~~~~
Abide Coffee House (7:45 AM – 1 PM)
Free 12 oz cup of coffee while supplies last when you mention "Christmas in July!"
Anthracite Newstand (6 AM – 7 PM)
10% off any food purchase at the back counter and a free brownie with any food purchase.
Bee Hive Gift Shop (10 AM – 4 PM)
Week of July 20-24, select Christmas items 50% off. All regular-priced items 20% off.
Circles on the Square (7:30 AM -4:00 PM)
Daily specials will be Small Business Christmas in July themed!
Do It Now Center Company (9 AM – 6 PM)
Book an Infrared Session for $40 and bring a friend for free.
Etruscan Press (11 AM – 4 PM)
Etruscan Press Summer Book Sale: 15% off all catalog titles - Credit card and PayPal payments only and no cash sales.
Iorio Jewelers (10 AM-7 PM)
Extra 10% off on Sterling Silver jewelry & watches.
King of Kings Gyros and Cheesesteak Factory (10:30 AM-11 PM)
Gyro and rice platter for $13.00.
Marquis Art & Frame (10 AM-6 PM)
20% off custom picture framing; 25% off all regular priced art materials; 10% off gift items and tabletop frames; and free parking while you shop.
Mimmo's Pizza and Restaurant (7 AM-6 PM)
Large 18" cheese pizza $10.00 + tax.
Osterhout Free Library (10 AM-7 PM)
$5.00 off Brewsterhout Rooftop Party tickets! Event Date: Friday, October 7, 2022 from 5-8pm. Tickets are available for purchase at the Osterhout Free Library from 8:30am - 7:00pm or online from 8:30am-11:30pm at osterhout.info. Must use code JULY2022 to receive the discount online. Must be 21+ to attend.
The Mines (10 PM – 12 AM)
"Sun's Up" High Noon Happy Hour Special: $2.50 High Noon Hard Seltzers from 10:00 pm to 12:00 am.
MUSICAL ENERGI (12 PM – 8 PM)
Buy one DVD & get one free.
Oyster Seafood and Steakhouse (7 PM – 10 PM)
$2.00 Sliders and $2.00 Coors Light Drafts & Lee Strubeck "The Piano Man" Playing with NO COVER.
Pour Coffee House (7 AM-4 PM)
Any sized hot or iced coffee is $1.00.
Senunas' Bar & Grill (5 PM-2 AM)
10% off your food purchase.
Studio 570 Salon (10 AM – 7 PM)
Purchase a $100 gift certificate and get $20 free!
studio BE (Online)
One free month on their online platform.
Top of the Slope (Thursdays 1 PM – 5 PM)
30% off everything in store.
Video Game Store (All day)
$2 blue ray movies.
~~~~~~~~~~~~~~~~~~~
Greater Wyoming Valley
~~~~~~~~~~~~~~~~~~~
anna D'INTINO Studios LLC (All day – online)
Use GALLERY10 and receive 10% off the purchase price. The sale expires 12/31/2022! Visit www.annadintinostudios.com or email: anna@annadintinostudios.com. Your walls will never look the same again!
Auntie Anne's Pretzels and Planet Smoothie/Cinnabon (11 AM – 8 PM)
10% off your purchase when ordering our new limited-time-only Dragon Fruit Mango Lemonade!
Beekeeper's Daughter (Online at www.beekeepersdaughter.com)
15% sitewide. Use code "celebrate15" Orders can be shipped or curbside pick-up.
The Cafe, an American Bistro (5 PM – 9 PM)
15% off with the mention of Christmas in July.
Citytrenz Boutique (12 PM – 5 PM)
50% off any item. Have to mention "Christmas in July" at checkout.
Benton Antiques, Etc. (10 AM – 5 PM)
10% off any one item over $20.00 as we celebrate Christmas in July, July 21 through the end of the month.
Duvall Leatherwork (10 AM – 6 PM)
We are offering a free Duvall Leatherwork t-shirt to any customer who spends over $100. We have shirts in black, brown, and gray in all sizes (retail price $25).
Enrico Bartolini (11 AM – 7 PM)
Up to 25% off of furniture and accessories in our showroom.
Fierce Sheep Boutique (Friday 7/22/22 (3-6 PM) and Saturday 7/23/22 (10 AM to 5 PM)
MENTION SMALL BUSINESS DEVELOPMENT CENTER (WB SBDC) and receive 10% off any in-store purchase on 7/22/22 and/or 7/23/22. The Boutique will be closed on Thursday 7/21/22.
The Happy Mama Place (By appointment only)
60 minute Swedish or Deep Tissue Massage for $50, must be booked and paid for on Thursday, July 21, 2022.
Hatchet Factory (Use Code CHRISTMASINJULY)
Spend $90, get $30 free.
Infusion Hydration and Wellness (10 AM – 5 PM)
Any drip scheduled on July 21, 2022, will get a 10% discount along with a free B 12 shot! All hydration packages will be 10 percent off!
Meadowbrook Bookkeeping LLC (Discount good until July 31st)
50% off back work OR 1-month free bookkeeping if your business signs up for ongoing monthly bookkeeping services. Www.meadowbrookbookkeeping.com.
Michael Mootz Candies (9 AM – 6 PM)
Mention the Chamber of Commerce Small Business Christmas in July for 15% off your total purchase (cannot be combined with other offers).
Mohegan Sun Arena at Casey Plaza (10 AM – 2 PM)
Save 50% on a private, luxury suite and bring your group of 6 or more. Discount valid on rental fees only. Tickets for the suite must be purchased at full price. Must purchase 6 tickets or more for the suite to qualify. Offer includes 2 VIP parking passes for the event. Catering not included.
Park Multimedia (Must book by August 21, 2022)
$50 Headshot Session: One 20-minute session with a digital, copyright-free image. Book on our website and mention "Christmas in July" for the discount. The session can be in-studio or on-location (within 30 miles).
ThePlushkollection (All day)
Buy 2 wand tubes and get 1 squeeze free; matte liquid lip stick and lip liner 10.99; & buy 3 or matte lipsticks and get 25% off.
ProSource Takeoffs & Estimating (All day)
ProSource will offer a one-time 15% discount to any new customer.
Seven Mountains Media (All day)
Seven Mountains Media will offer 70x :30 commercials per month, any 3 consecutive months, on the new Wilkes-Barre/Scranton station, Bigfoot Country Legends 101.7/107.7FM. Radio schedules are Wed-Sun, 10A-8P, for $1800 ($600 per month). All schedules must be booked to start before or by October 1st 2022.
Ski Shack (11 AM – 6 PM)
20% OFF All Apparel and Footwear from Patagonia, The North Face, Fjallraven and more! Shop in-store or use code JULY20OFF at checkout at SkiShackSports.com.
Sky Zone Pittston (Discount valid until 9/1/22)
20% off any jump ticket using discount code ""WBChamber2022""
$20 GLOW when using discount code ""WBChamberglow"" (includes glow shirt, socks and 2 hour glow ticket).
Theory Salon and Wellness (Offer good when added to services rendered through end of August)
B3 Additive, $10; B3 Demi Conditioning Treatment, $30; B3 Splitend Treatment, $25; when added to additional services.
Woodhouse Spa (All day – online only!)
20% off e-gift certificates of $100 or more when you use code KINGSXMASJULY at checkout through Kingston.Woodhousespas.com.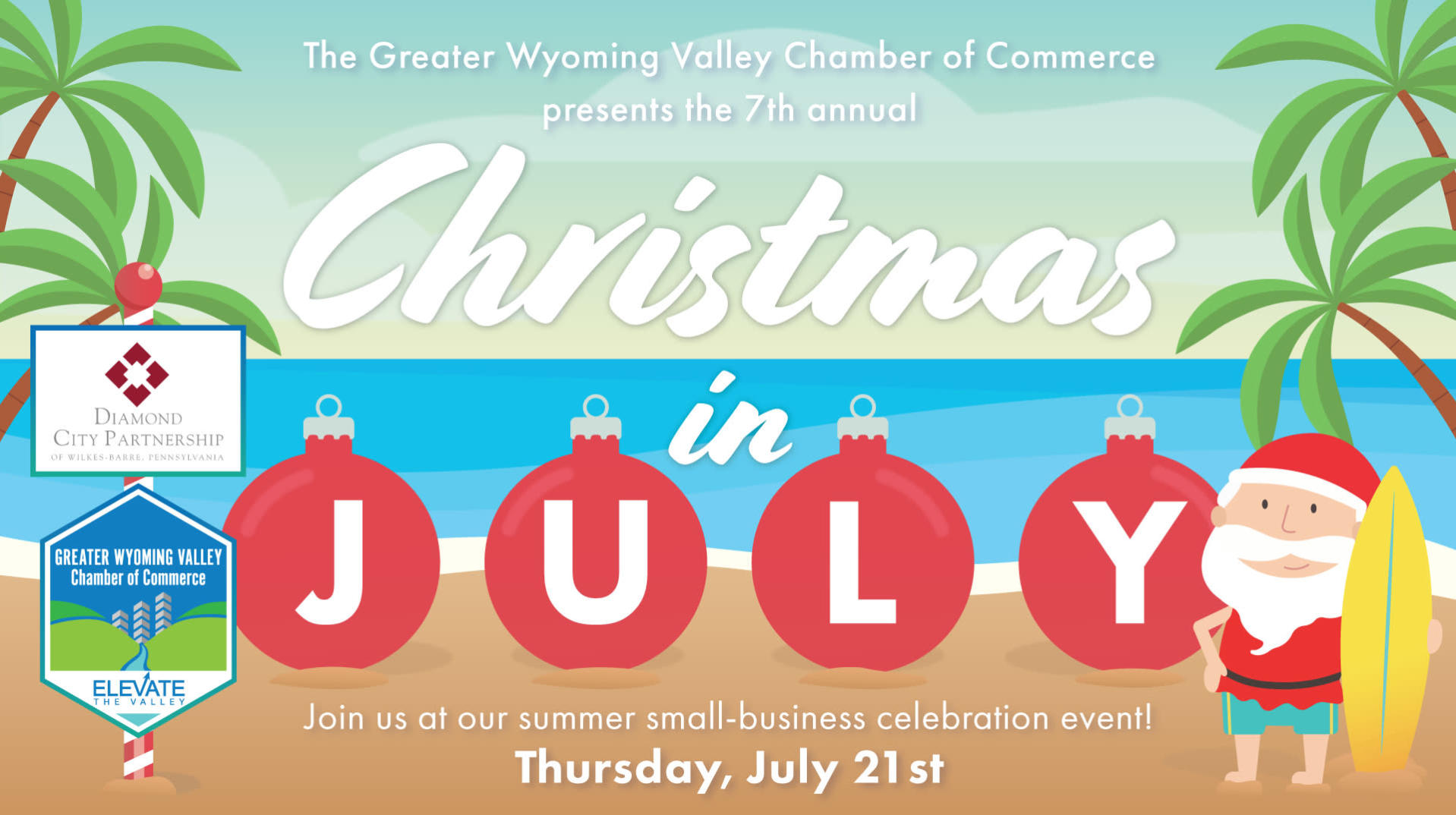 ---

Mention "

Christmas in July

" to enjoy local deals all day throughout the Wyoming Valley!
All deals are only valid on Thursday, July 21, 2022, unless otherwise noted. Times for deals vary depending on individual participating businesses. Check the info under each participating business for more information on the deal being offered. Business deals will be listed closer to the event.