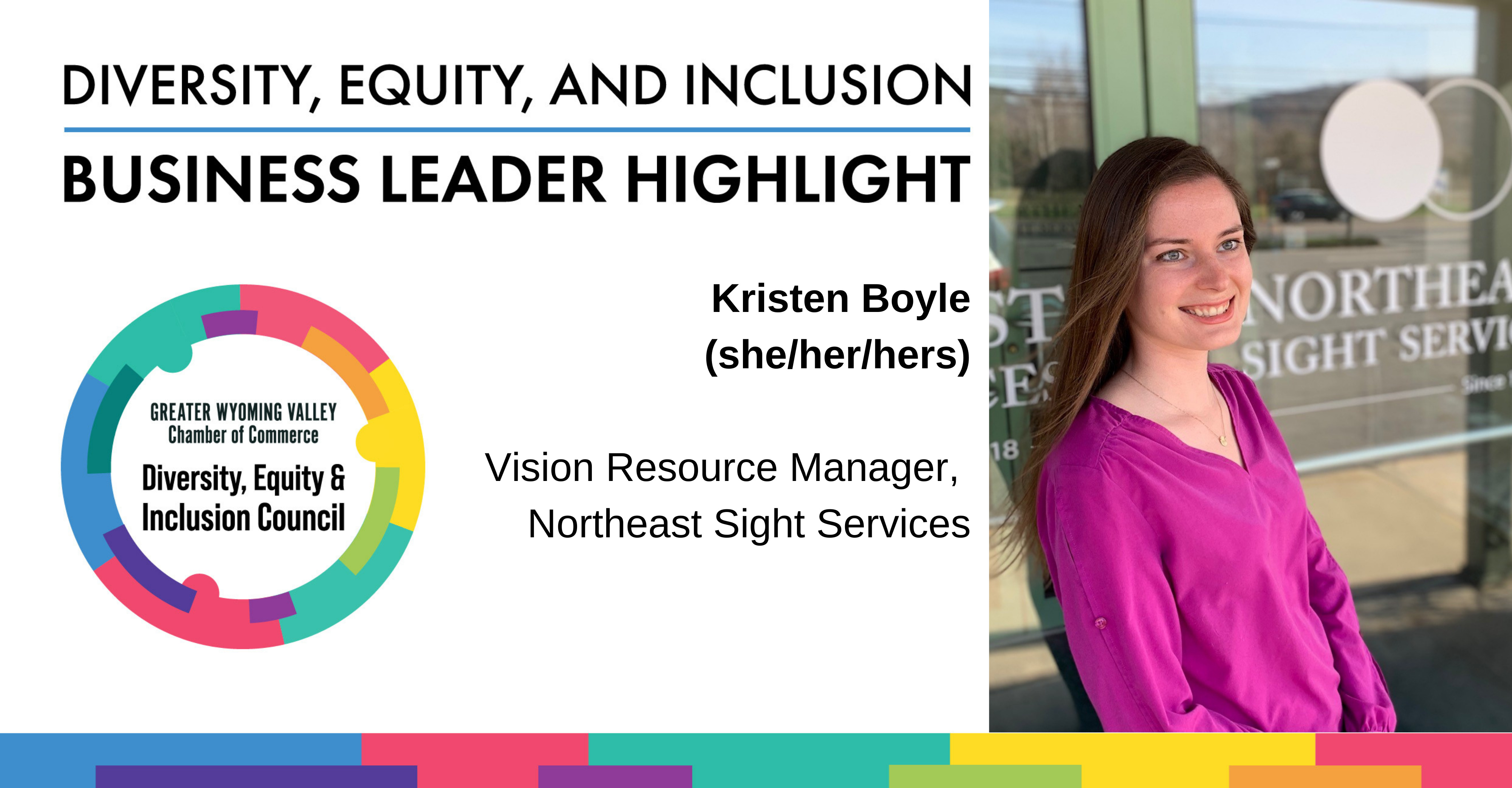 Diversity Month Highlight: Kristen Boyle
Throughout the month of April for Diversity Month, we will be highlighting some amazing individuals in our community that are spearheading diversity, equity, and inclusion causes and initiatives, as well as business leaders and owners with diverse backgrounds. Next, we spoke to Kristen Boyle, Vision Resource Manager at Northeast Sight Services, about how her professional role assists and empowers those with vision loss.

Kristen Boyle is the Vision Resource Manager at Northeast Sight Services. She is a graduate of Lake-Lehman High School and received Masters degrees from both Saint Joseph's University and Salus University, becoming a Certified Vision Rehabilitation Therapist. Kristen was born with a condition that caused her to be blind in her right eye and visually impaired in her left, but she now use this to her advantage to help teach others how they can adapt and overcome their vision loss. At Northeast Sight Services, Kristen helps to create and run specialized programs for those of all ages with vision loss, provide group and one-on-one instruction, and oversee a Resource Center with adaptive devices and technology for the visually impaired. On the weekends you can find her riding her horse, drawing or painting, or out walking with her fiancé, Jason, and dog, Clyde.

Find out more about Kristen in the Q&A below!

Q: I am inspired to be a leader in our community because…
A: I was born and raised here and I'd love to be able to contribute what I can to make it even better for all those who call this area home.

Q: I am most excited to accomplish what through my diversity, equity, and inclusion community programming…
A: I would love to see this area become a gold standard in inclusivity for those living with blindness and low vision. My goal is to not only educate those adjusting to vision loss on how they can thrive but also teach community organizations how they can become allies to all those affected by vision loss in NEPA

Q: Three words to describe yourself…
A: Inquisitive, creative, and determined

Q: My greatest achievement to date is…
A: Being awarded a full-ride scholarship to college, thank you to all of my teachers for always believing in me, despite me not being able to read the chalkboard

Q: Five years from now, I will be…
A: Continuing to expand programming at Northeast Sight, married, and probably still watching reruns of The Office

Q: Best advice you've received…
A: You are only limited by what you think you can achieve

Q: Favorite activity/place in NEPA…
A: I love grabbing a bite out to eat and experiencing all the local art and live music during First Fridays in Scranton

Q: Why NEPA?
A: It has everything I could want, my family is here, it has a sense of community, the location is perfect for weekend trips to Philly and NYC, and the pizza just can't be beat!
Images