Meet Our 2022 Anniversary Recognition Honorees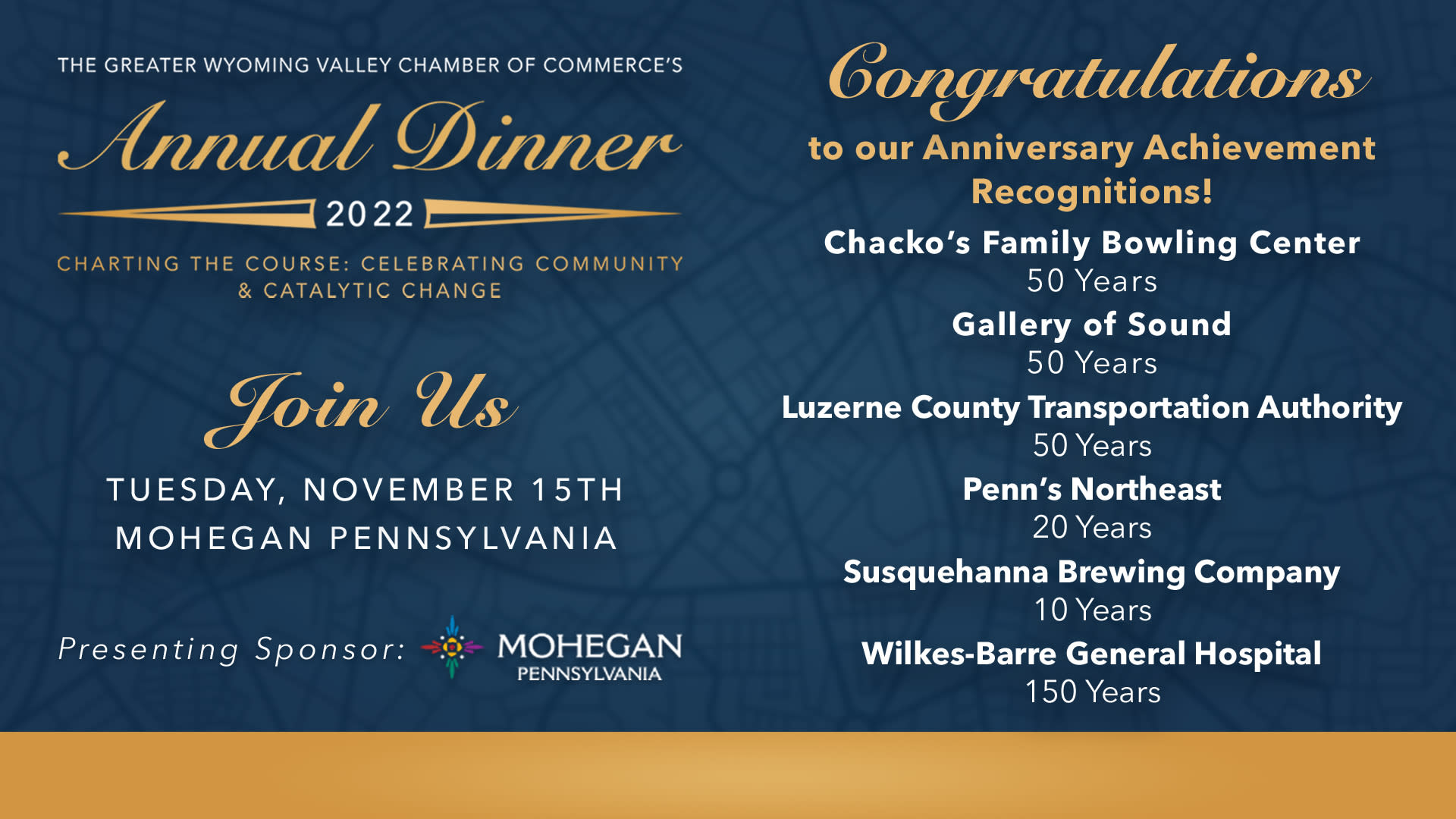 At this year's Annual Dinner, we have special anniversary recognition for the following local businesses who are celebrating historic anniversaries, including Chacko's Family Bowling Center (50 years), Gallery Of Sound (50 years), Luzerne County Transportation Authority (50 years), Penn's Northeast (20 years), Susquehanna Brewing Company (10 years), and Commonwealth Health Wilkes-Barre General Hospital (150 years).
Chacko's Family Bowling Center, celebrating 50 years in business
50 years tells a story. In the story of Chacko's Family Bowling Center, it's one of creativity, perseverance, family, community, and resilience. It all started with John Chacko, Sr. in 1972, when a family legacy was born out of a personal past-time. John, his wife, and his children worked day in and day out to make their dream a reality. After nearly being decimated by the Agnes flood in 1972 (which occurred the day after the papers to purchase the business were signed) to surviving the Covid-19 Pandemic (with the help of a generous grant from Dave Portnoy's The Barstool Fund), the Chacko family is no stranger to hard work. And with the support of the Northeast PA community, the bowling community, and friends and employees, the business went from a single small center to opening a second location to most recently a brand new state-of-the-art facility with 40 lanes in Wilkes-Barre in 1998. Currently second-generation owned (with third and fourth-generation support) by Dan Chacko, Anne Libby, and John Chacko, Jr., Chacko's continues as a beacon for the community, the sport of bowling, friends, and family. 50 years went by fast, and we can only hope for at least another 50.
Gallery of Sound, celebrating 50 years in business
Joe Nardone's record shop opened in downtown Wilkes-Barre in the 60's and moved on to operate as a concession selling records/8 tracks/cassettes in the Wayne Department Store with locations in Edwardsville, Taylor (PA), and Haddonfield New Jersey. They then moved to open The Gallery of Sound in the Wyoming Valley Mall in 1972. The store was founded by Joe Nardone, Sr. and is carried forward in the capable hands of Joe Nardone Jr. to the present, with a superstore on Mundy Street in Wilkes-Barre Township and Dickson City.
Luzerne County Transportation Authority, celebrating 50 years in business
Since 1972, Luzerne County Transportation Authority (LCTA) has been providing the Greater Wyoming Valley with public transportation services that are accessible and efficient. LCTA helps people connect to work, school, medical, and other important community services that improve the quality of life with a reliable transportation choice. LCTA buses provided over 650,000 trips last year. From LCTA, thank you to the Greater Wyoming Valley Chamber of Commerce for your recognition of LCTA's 50 years of public transportation service. We are proud to serve the needs of Luzerne County residents.
Penn's Northeast, celebrating 20 years in business
In the past 20 years, Penn's Northeast has worked with regional partners and members to help create over 11,000 jobs, contributing an investment of more than $18 billion into the local economy as Northeastern Pennsylvania's main economic development organization.
The region has experienced unprecedented growth in the past two years, and, in 2021, the Governor's Action Team stated that NEPA was the leading location for the state in job creation, manufacturing, and corporate office locations.
Penn's Northeast thanks its partners, including one of its founding members - the Greater Wyoming Valley Chamber of Commerce, for their continued support in helping to attract quality employers to Northeastern Pennsylvania.
Susquehanna Brewing Company, celebrating 10 years in business
Susquehanna Brewing Company (SBC) is a craft brewery and tasting room proudly located in Pittston, Pennsylvania. Currently a 6th generation family business, SBC traces its beginnings to 1857, when Charles Stegmaier co-founded the Baer & Stegmaier Brewing Co. in Wilkes Barre,
Pennsylvania. In the years following, the Stegmaier family saw great success with a loyal following throughout Northeastern Pennsylvania, but challenges surfaced over the years when prohibition laws were passed and through increased national competition leading to the sale of the Stegmaier Brewery in the 1970's. The family's knowledge and love of beer never ended and the great-great grandson of Charles Stegmaier, Ed Maier, founded a distribution company.
In recent years, Ed merged his beer distribution company, Premium Brands, with Mark Nobile's Wyoming Quality Beverage in 2004 to create United Beverage of NEPA. Upon the sale of United Beverage in 2010, Ed and Mark along with Ed's son Fred created SBC. forever changing the meaning of "good beer". SBC's flagship brand, Goldencold Lager, was the first beer to come off the lines of the newly formed craft brewery and remains a favorite among those who tried it for the first time in 2012 and for those trying it this week. For the last decade, SBC has created some of the area's favorite brews and earned a bronze medal for Goldecold at the American Beer Festival and Gold at the World Beer Cup for Shady Spot Lemon Shandy. In 2022, the original Stegmaier brands found their way back to the family when Ed, Fred, and Mark finalized the purchase of the brands from Lion Brewery. The first Stegmaier brand brewed at SBC, Pumpkin Ale, was released this past August. Susquehanna Brewing Company is proud to be a staple in the local community, has exciting plans for both Susquehanna and Stegmaier beers ahead, and can't wait to share them with the good people of Northeastern Pennsylvania!
Commonwealth Health Wilkes-Barre General Hospital, celebrating 150 years in business
Every year, Wilkes-Barre General Hospital takes care of thousands of patients and families across Northeastern Pennsylvania. From primary care to more than 60 medical specialties, as well as acute care and walk-in clinics, our commitment to our patients is unwavering. The hospital also contributes significantly to the economic health of the community - employing thousands of people, paying taxes, and donating to charities. The hospital and its staff are firmly committed to delivering high-quality healthcare to patients and to helping local communities grow and prosper. Wilkes-Barre General Hospital has remained faithful to its mission for 150 years and celebrates that legacy this year while looking forward to an even brighter future.
Make sure to join us for our Chamber Annual Dinner on November 15th to celebrate these anniversary recognition recipients and the rest of our honorees that night! Click here to register today!