Meet Our 2022 Pride of Place Award Recipients: Community Bank and McCarthy Tire Service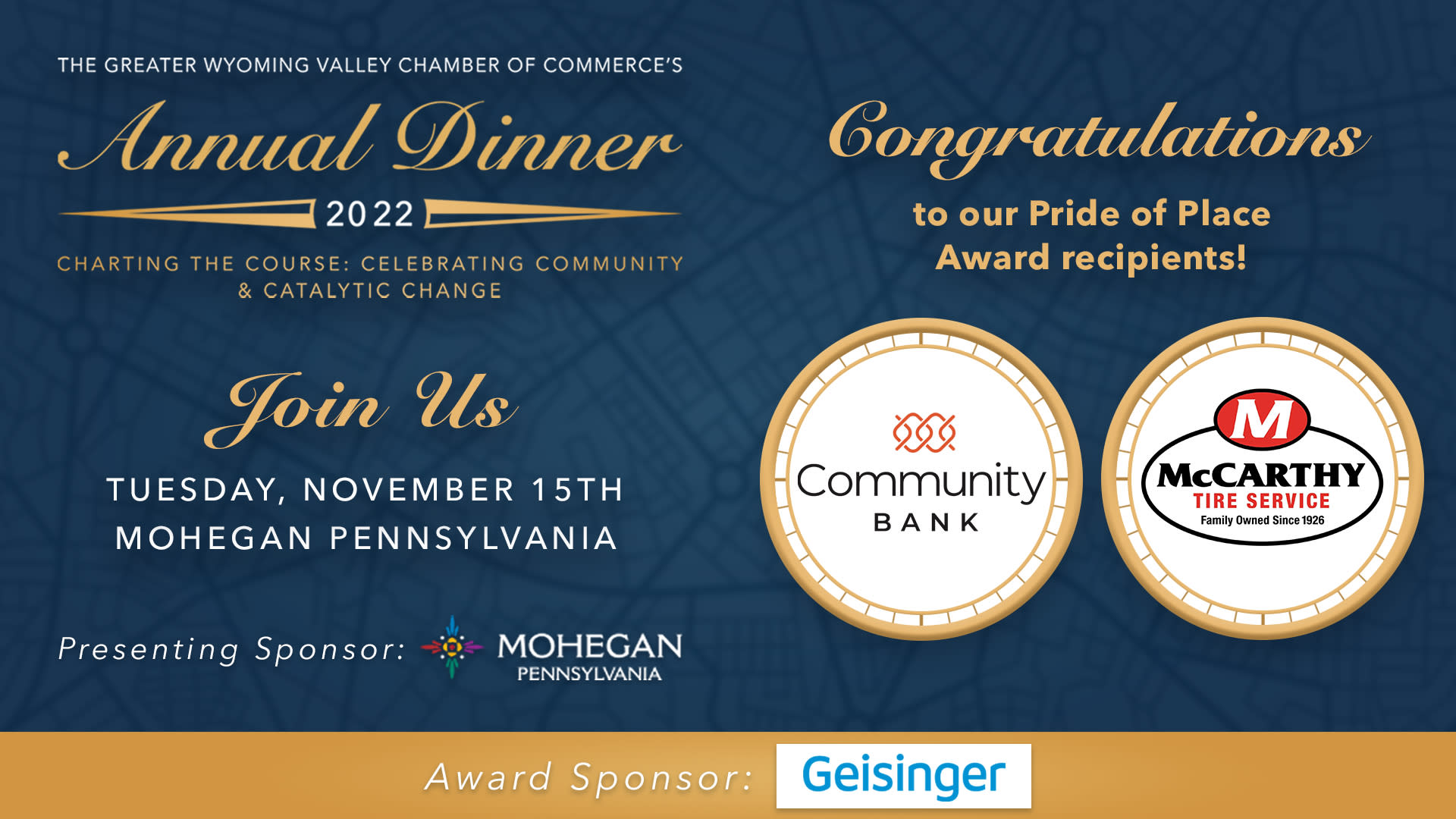 Community Bank
For Community Bank, the Pennsylvania flagship location is more than just a new facility. It's a commitment to building new and existing relationships and growing the bank's future in Wilkes-Barre and our surrounding communities throughout Luzerne, Lackawanna, Wyoming, Susquehanna, Bradford and Carbon Counties.
Construction of the new 16,000 square foot building at 350 Liberty Plaza began in June of 2021 on the 2.277-acre parcel and was completed in September of this year. The flagship location integrates the latest state-of-the-art technology systems and design and will create a unique space for customers and employees. The building includes three drive-thru lanes, two ATMs, and representation from all lines of business including retail, commercial, and wealth management. Customers will enjoy plenty of parking options and a modern banking experience.
"Our branches are a reflection of our people, from our employees and our customers to the communities we live and work in," Community Bank President of PA Banking Barbara Maculloch said. "This PA flagship location is home. A place that will allow us to make the best customer experience possible and we could not be more proud to be in our new Wilkes-Barre neighborhood. We invite everyone to drop in, take a tour and experience your best banking experience ever!"
Community Bank System Inc. operates more than 215 customer facilities across Northeastern Pennsylvania, Upstate New York, Vermont and Western Massachusetts. Community Bank N.A., and has been serving its communities for more than 155 years and has consistently been ranked among the top-performing U.S. banks in America by Forbes Magazine since the list was first published in 2009. In addition, Community Bank was ranked on Newsweek's Most Trusted Companies 2022 List and Forbes World's Best Banks 2022 List.
McCarthy Tire Service
"McCarthy Tire is honored to celebrate with such an esteemed group of peers. We also want to congratulate our fellow award winners on their successes. We would like to thank the Chamber for their continued support of businesses, large and small, startups or established. They provide an invaluable service to us all.
McCarthy Tire is the 5th largest Commercial Tire Dealer in the country. We are a family run business with the third generation at the helm and the fourth generation deeply entrenched. Our business is in a growth mode, adding 16 locations in 2022 alone. Because of this growth, we needed to expand and renovate our corporate offices. We have always been in Wilkes-Barre and with the help of many, we were able to expand our team and welcome them into offices with many amenities. Our new offices have spacious workstations and offices, open areas to gather, break rooms, and a workout facility. All of these complement our workplace wellness initiative. We also worked to capture the history of our business in the floor to ceiling wall murals that can be found throughout the renovated area. This is something that we treasure and can never be taken away. Again, thank you to everyone who helped make this possible and thank you to the Chamber. We are proud to call Wyoming Valley our home for 96 years!" - Katie McCarthy Lambert, CFO
Make sure to join us for our Chamber Annual Dinner on November 15th to celebrate Community Bank and McCarthy Tire Service and the rest of our honorees that night! Click here to register today!