Meet YP Giving Grant Finalist Junior Achievement of NEPA!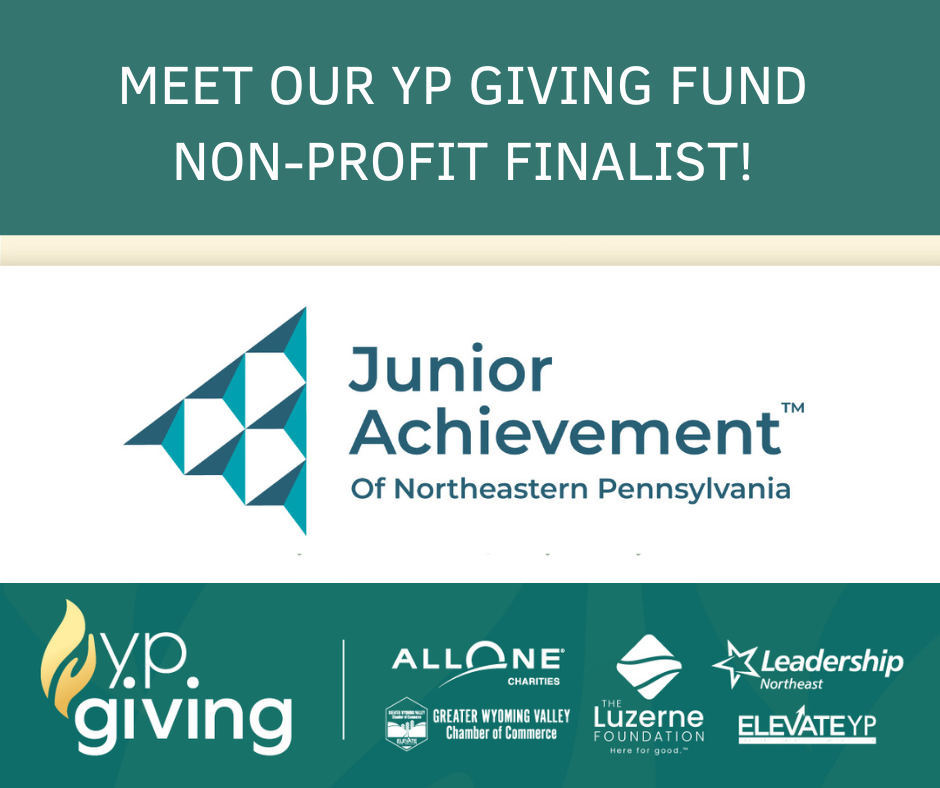 Junior Achievement's mission is to inspire and prepare young people to succeed. The inspiration piece comes from community volunteers who not only deliver their lessons, but share their experiences. In the process, these volunteers serve as role models helping to positively impact young people's perceptions about the importance of education, as well as critical life skills. Preparation involves JA's proven lessons that promote financial capability, work and career readiness, and business ownership.
Junior Achievement's proven lessons in financial literacy, work and career readiness, and entrepreneurship are shown to positively impact the lives of young people. These lessons align with national and state educational standards and are delivered to millions of students across the country with the help of our education partners and volunteers from the local community. Research shows that JA Alumni are more likely to have a college degree, feel confident managing money, have career success, and have started a business as an adult.
Junior Achievement was founded in 1919 by Theodore Vail, president of American Telephone & Telegraph; Horace Moses, president of Strathmore Paper Co.; and Senator Murray Crane of Massachusetts. Its first program, JA Company Program®, was offered to high school students on an after-school basis. In 1975, the organization entered the classroom with the introduction of Project Business for the middle grades. Over the last 39 years, Junior Achievement has expanded its activities and broadened its scope to include in-school and after-school students.
Junior Achievement has over 100 local JA Areas across the nation, including the Northeastern PA branch, and together we are the nation's largest organization dedicated to giving young people the knowledge and skills they
need to own their economic success, plan for their futures, and make smart academic and economic choices. JA's programs—in the core content areas of work readiness, entrepreneurship and financial literacy—ignite the spark in young people to experience and realize the opportunities and realities of work and life in the 21st century.
About YP Giving:
If you are feeling inspired and would like to participate in the voting process to decide if Junior Achievement will receive the grant funds, you can donate to the YP Giving Fund. All donors are able to vote to choose the nonprofit recipient for 2022, Donations can be made at https://formstack.io/4EED7.
Next, join these finalists on October 12th at 5:30 PM at the Woodlands, for a free mixer to hear them present how they will use these funds to help our community. Voting will take place following their presentations. You can register for free HERE!