Meet YP Giving Grant Finalist Restored Church!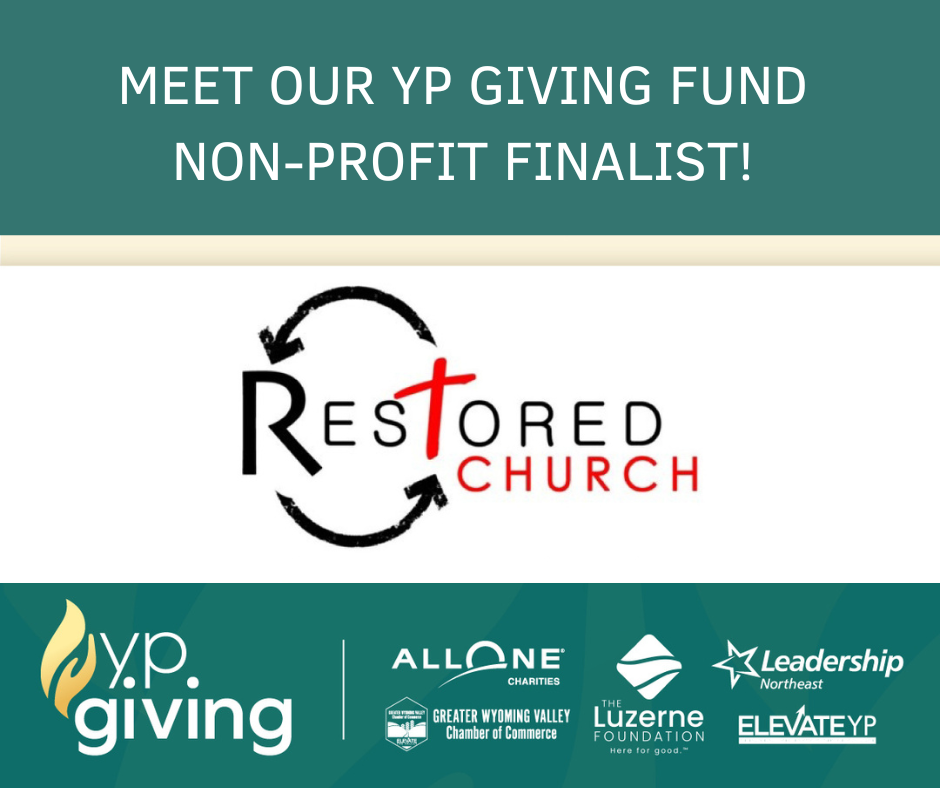 Restored Church is an urban church that was started in 2012 with a passion for loving, serving, and offering community to those who are at-risk and in need in Wilkes-Barre. They are strategically located in the poorest neighborhood in our city, and are thankful for the proximity and accessibility that gives them to make a tangible difference in the lives of so many people. They do this by addressing the material, financial, educational, and relational poverty that often keeps people trapped in poverty.
By being a church "In the City, For the City," they realize that they are simply a small part of a much larger picture of people, leaders, and organizations that are making a difference throughout Wilkes-Barre. Over the last decade, they have launched a number of initiatives, while also strategically partnering with other city teammates in city government, our school district, non-profits, local businesses, and more.
Since launching in 2013, they've never had a Sunday without new people, have resourced dozens of at-risk & foster families through Care Portal, have served over 2,200 families in the past 16 months through their Community Food Distribution, have impacted over 150 children & students through Restored Kids & Restored Youth, and have been a regional catalyst for over 85 pastors & leaders to collaborate together to meet community needs.
Based on the volume of momentum they're seeing, the scope of need the community is facing, and the challenges that come with being a low-budget church, primarily reaching and serving a low-income community, this grant would financially fuel the expansion of current initiatives and the launch of more community development initiatives that will impact homelessness, poverty, food insecurity, education, and family health.
This grant would empower them to expand our Community Food Distribution, offer Community Development Resources (ESL, Financial Mentoring, Job Training, Nutritional Education, Parenting Classes, and Entrepreneurial Opportunities), and launch an After-School Program for students of Heights-Murray Elementary and G.A.R. Middle School, expand their Community Gardens, amplify their accredited Bachelor's & Master's level internships, and expand their Collaborative Youth Programs.
They are grateful for the privilege of being included alongside three other community organizations who are doing great work in the city and we are excited to see how this helps propel Restored or someone else forward in making an impact!
About YP Giving:
If you are feeling inspired and would like to participate in the voting process to decide if Restored Church will receive the grant funds, you can donate to the YP Giving Fund. All donors are able to vote to choose the nonprofit recipient for 2022, Donations can be made at https://formstack.io/4EED7.
Next, join these finalists on October 12th at 5:30 PM at the Woodlands, for a free mixer to hear them present how they will use these funds to help our community. Voting will take place following their presentations. You can register for free HERE!