Wilkes-Barre Connect Spotlight
Thursday, September 14, 2023 (5:00 PM - 8:00 PM) (EDT)
Description

Join us for our next Wilkes-Barre Connect Spotlight on September 14th on the theme of Women in Entrepreneurship! Our Featured Speaker will be Danielle Fleming, CEO & Perfumer at Noteology and CEO of Olfactif! Our Spotlight Speakers will be Dr. Candice G. Dutko, Owner/Head Coach of Achieve Wellness & Fitness; La'Quitia Denson, Photographer/Owner of Beyond The Pond Photography; and Shelly Lebenson PT, DPT, MA, CPT and Casey Miller, PT, DPT, MS, RD, CSCS, Co-owners of Prime Physical Therapy, LLC.
The Spotlight program features quarterly events that provide an opportunity for industry leaders and entrepreneurs in NEPA to meet, discuss and identify potential partnerships. Each event features a fifteen-minute presentation from an entrepreneur with regional ties, as well as shorter spotlights featuring local entrepreneurs, students, and non-profits. Spotlight is a Wilkes-Barre Connect program coordinated by the Diamond City Partnership and sponsored by Penn State Wilkes-Barre, through the Invent Penn State initiative.
This event is FREE and open to anyone, we just ask that you submit a free registration for refreshment-count purposes.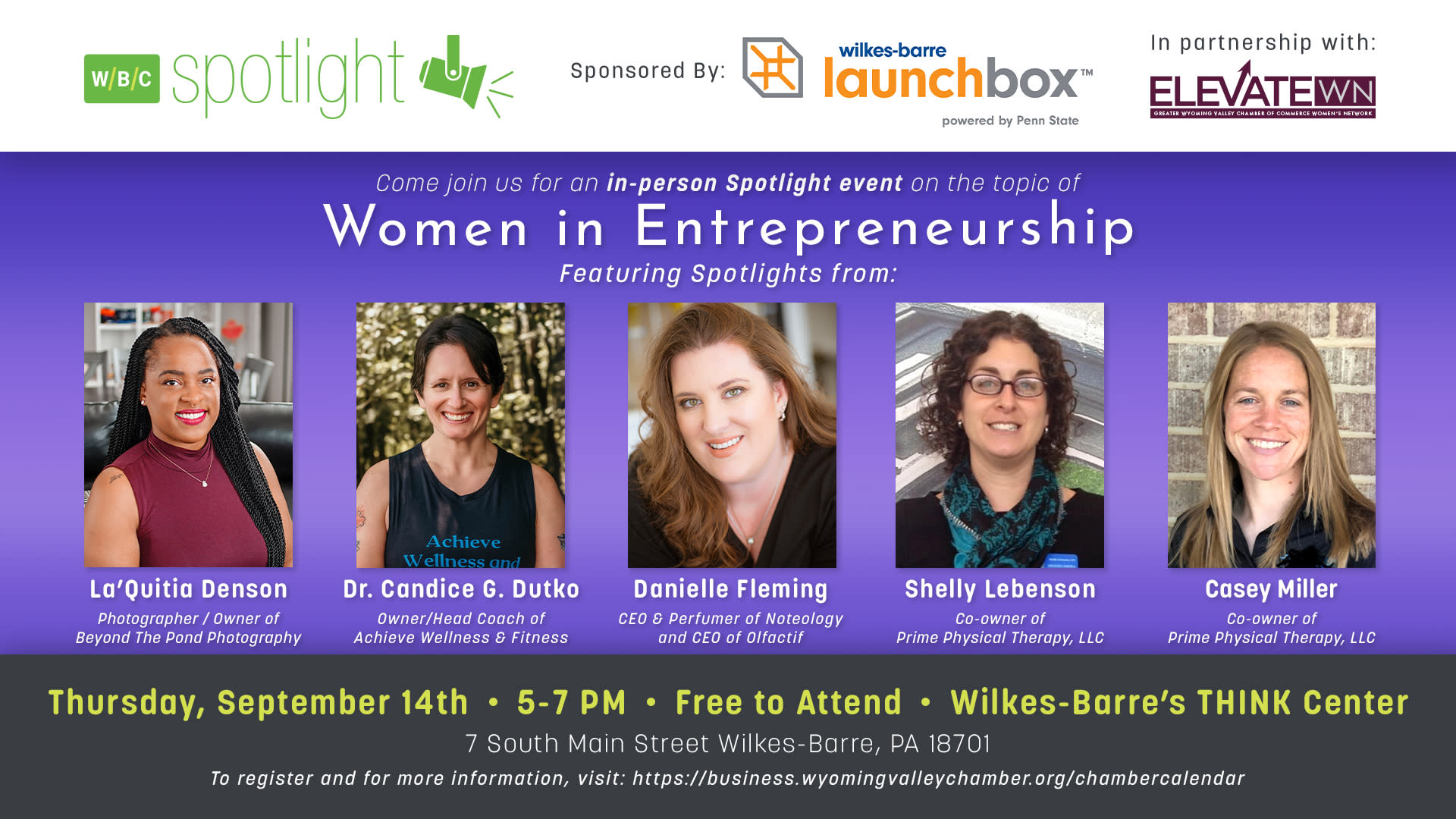 About Wilkes-Barre Connect: The Wilkes-Barre Connect program helps businesses grow in NEPA. Powered by the Greater Wilkes-Barre Chamber of Business & Industry, Connect features partnerships among the Small Business Development Center at Wilkes University, the Diamond City Partnership, the Institute for Public Policy & Economic Development at Wilkes University, Ben Franklin Technology Partners of Northeastern Pennsylvania, the Family Business Alliance at Wilkes University, and the Allan P. Kirby Center for Free Enterprise and Entrepreneurship at Wilkes University. Wilkes-Barre Connect is housed in Wilkes-Barre's T.H.I.N.K Center, a space made possible by the Invent Penn State initiative. For more information about the Wilkes-Barre Connect Program please visit http://www.wilkesbarreconnect.org/
THINK Center
7 S Main Street



Wilkes-Barre

,

PA

18701

United States



Event Contact
Michaela Grundowski
Thursday, September 14, 2023 (5:00 PM - 8:00 PM) (EDT)
Categories
Wilkes-Barre Connect Events