Luzerne County Launches its Small Business Sustainability Grant Program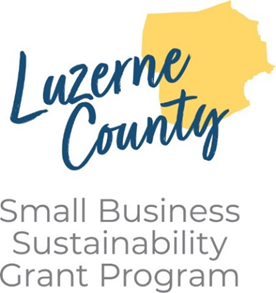 FOR IMMEDIATE RELEASE:
November 15, 2023

PRIMARY CONTACTS:
Mary Malone, Greater Hazleton Chamber of Commerce
570-455-1509 / Mary@LuzerneCountyReady.org
Michelle Mikitish, Greater Pittston Chamber of Commerce
570-655-1424 / Michelle@LuzerneCountyReady.org
Lindsay Griffin Boylan, Greater Wyoming Valley Chamber of Commerce
570-823-2101 / Lindsay@LuzerneCountyReady.org

SECONDARY CONTACT:
Jennifer Hetro, Communications Consultant
570-574-7344 / jenny@jennyhetro.com
Luzerne County Launches its
Small Business Sustainability Grant Program


November 15, 2023: This morning, Luzerne County officials announced the opening of the Luzerne County Small Business Sustainability Grant Program. Eligible businesses can apply online at www.luzernecountyready.org.
The program aims to help mitigate the negative economic impacts of the COVID-19 pandemic on small businesses, keep their doors open, protect local jobs, support community economic recovery, and increase resiliency across Luzerne County.
"I encourage all eligible small business owners to seize this opportunity and take advantage of the ARPA funding. By doing so, you will be investing in the future of your business and contributing to the revitalization of our local economy. This program is a perfect example of collaboration with many community partners who are so deeply invested in supporting our small businesses," stated Romilda P. Crocamo, Esq., Luzerne County Manager, at a press event held at the Courthouse.
One-time, grant awards of $5,000 will be distributed to eligible applicants with less than 20 Full Time Equivalent Employees. Businesses with 20 or more Full Time Equivalent Employees may be eligible for up to $10,000 as funding allows.
"We want to reach as many small businesses as possible and focus on long standing, brick and mortar or service-oriented businesses. The spirit of this program is to compliantly distribute funds in accordance with the federal requirements, but make it as simple as possible for eligible small businesses to apply successfully. Everything an applicant needs to know can be found at www.luzernecountyready.org," stated Michelle Mikitish, President, Greater Pittston Chamber of Commerce.
Mary Malone, President, Greater Hazleton Chamber of Commerce, added, "This process is not first-come, first-served. Yes, we want to encourage businesses to apply sooner than later, but it's not a race."
Completed applications will be reviewed with priority consideration to businesses operating in qualified census tracts and disadvantaged business enterprises — minority-owned, woman-owned and veteran-owned.
A series of in-person and virtual informational events will be held in the coming weeks to ensure small business owners have the information and technical assistance to complete their applications. Event information can be found at www.luzernecountyready.org.
This program is being administered for Luzerne County by the Greater Pittston Chamber of Commerce in partnership with Greater Hazleton and Greater Wyoming Valley Chambers of Commerce.
"We are thankful to Luzerne County leadership for the Small Business Grant Program to help our local business community recover and thrive from the challenges of the past few years. This funding will allow for continued growth of our area and will support those small businesses who are the hearts of all of our communities. We are proud to be a partner in this vital funding program," added Lindsay Griffin Boylan, President and CEO, Wyoming Valley Chamber of Commerce.
"What a wonderful day to be able to have the application process open to help the businesses of Luzerne County. This funding will be a lifeline for some of those businesses. On behalf of County Council, we are so proud to be able to offer this opportunity through this funding. Thank you to the Chamber partners as well, who helped us to be able to put the application process together," added Lee Ann McDermott, Luzerne County Council.
Full program details, including eligibility requirements and instructions on applying, can be found at www.luzernecountyready.org. The website is accessible in English and Spanish.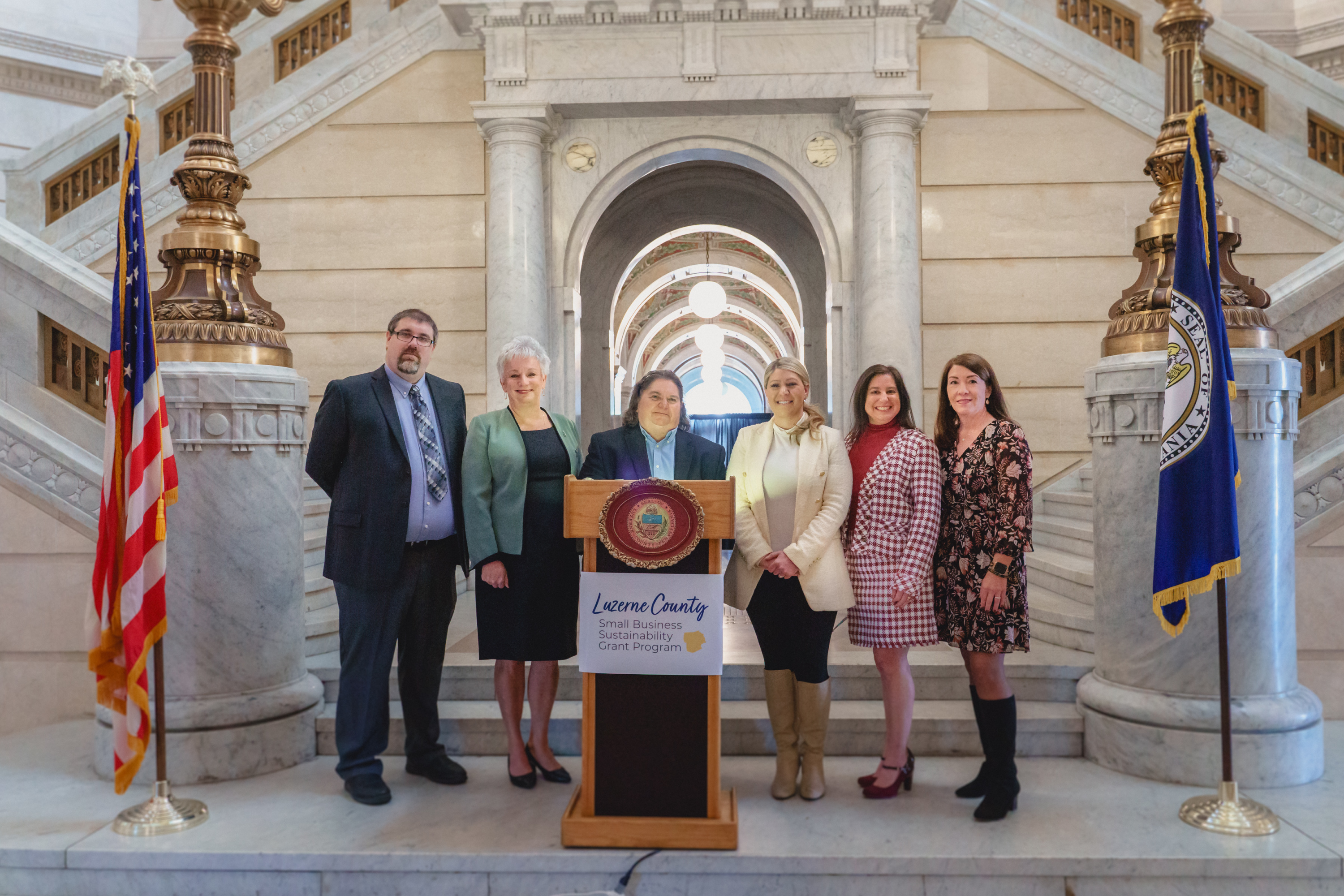 ###

Photo Attached — Left - Right: Matthew Bickert, Greater Wyoming Valley Chamber; Mary Malone, Greater Hazleton Chamber; Romilda P. Crocamo, Esq., Luzerne County; Lindsay Griffin Boylan, Greater Wyoming Valley Chamber; Michelle Mikitish, Greater Pittston Chamber; Lee Ann McDermott, Luzerne County Council
Additional photos may be accessed at https://jennyhetro.smugmug.com/Luzerne-County-Sustainability-Grant/n-tpfvFJ/