TOM SEGURA ANNOUNCES NEW GLOBAL STAND-UP COMEDY TOUR 'COME TOGETHER' IS COMING TO MOHEGAN SUN ARENA ON JUNE 12

FOR IMMEDIATE RELEASE
TOM SEGURA ANNOUNCES NEW GLOBAL
STAND-UP COMEDY TOUR 'COME TOGETHER'
IS COMING TO MOHEGAN SUN ARENA ON JUNE 12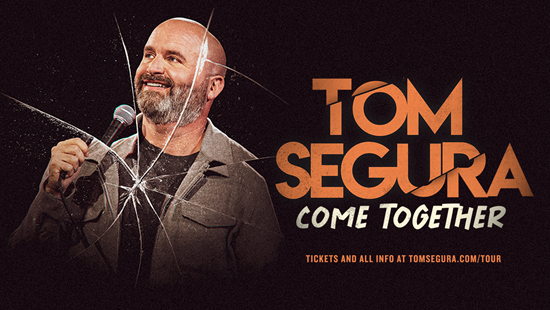 TICKETS AVAILABLE ON PRESALE NOVEMBER 15 AT 10AM LOCAL TIME
GENERAL ON SALE BEGINS NOVEMBER 17 AT 10AM LOCAL TIME
TICKETS AND ALL INFORMATION AT TOMSEGURA.COM/TOUR
FOR HIGH RES PRESS HEADSHOT CLICK HERE
(November 13th, 2023) - Today one of the biggest touring comedians Tom Segura, announced the first leg of his new global stand-up comedy tour Tom Segura: Come Together. One of the stops include Wilkes-Barre at Mohegan Sun Arena at Casey Plaza on June 12th.
Tickets will be available via presale on Wednesday, November 15th at 10AM local time. The general on sale will be Friday, November 17 at 10AM local time exclusively at AXS.com. Ticket information can be found at TOMSEGURA.COM/TOUR.
His previous world tour, I'm Coming Everywhere, sold out venues across the world with over 300 shows. Segura is bringing his highly anticipated new hour of comedy to over 40 cities with the first leg of The Come Together tour.
"This tour is bigger and blacker than anything I've ever done, but that name has already been used, but Come Together gets the point across. Let's all come together for a night. One way or another we're going to make memories on this one," said Tom Segura.
###
ABOUT TOM SEGURA:
Actor/Comedian/Writer Tom Segura is one of the biggest names in the comedy business. He recently toured the world with over 300 shows on his I'm Coming Everywhere World Tour. He is best known for his Netflix specials Ball Hog (2020), Disgraceful (2018), Mostly Stories (2016), and Completely Normal (2014). His fifth Netflix special Sledgehammer released July 4, 2023 and debuted at #1 on the streamer. In July 2022, Segura released his New York Times Bestselling book I'd Like to Play Alone, Please to wide praise with Forbes calling it "laugh out loud funny." Paste Magazine described him as, "...having a natural and capable storytelling ability, one that lifts his narratives out of average anecdote fare and plants them firmly in hilarious ground."
Your Mom's House Studios is home to his hit podcasts Your Mom's House which he co-hosts with his wife, comedian Christina Pazsitzky, 2 Bears 1 Cave which he co-hosts with Bert Kreischer, and many more podcasts that draw millions of listeners each week. Additionally, YMH Studios was one of the first networks to create wildly successful Livestream Podcast Events as an outcome of the pandemic.
Segura can be seen in the STX Film Countdown opposite Elizabeth Lail, Instant Family opposite Mark Wahlberg and Rose Byrne, OPENING ACT, and FLINCH. Segura's television credits include: The Late Show with Stephen Colbert, Conan, Workaholics, Happy Endings, The Late Late Show, Comedy Central Presents: Tom Segura, Mash Up, How To Be A Grown Up.
Segura has an increasing social media following (@seguratom on IG, @tomsegura on Twitter). When he isn't performing on stage or recording a podcast he's watching college football or waiting for college football to come back.
PRESS CONTACTS:
Vision PR: Jami Kandel - jami@visionpr.net / Jessica Pierson - jessica@visionpr.net
About Mohegan Sun Arena at Casey PlazaMohegan Sun Arena at Casey Plaza is Northeast Pennsylvania's premiere home for sports and entertainment. Located in Wilkes-Barre Township, Mohegan Sun Arena has over 8,000 permanent seats for events with a capacity of nearly 10,000 for select events. The venue opened in 1999 and is owned by the Luzerne County Convention Center Authority, a government body appointed by Luzerne County and managed by ASM Global.
For more information, please visit https://www.MoheganSunArenaPA.com
About ASM Global
ASM Global is the world's leading producer of entertainment experiences. It is the global leader in venue and event strategy and management—delivering locally tailored solutions and cutting-edge technologies to achieve maximum results for venue owners. The company's elite venue network spans five continents, with a portfolio of more than 350 of the world's most prestigious arenas, stadiums, convention, and exhibition centers, and performing arts venues Follow us on Facebook, Instagram, LinkedIn and Twitter.
For more information, please visit https://www.asmglobal.com/
LOCAL MEDIA CONTACT
Stephen Poremba, General Manager
Mohegan Sun Arena at Casey Plaza
570.970.3507
porembas@mohegansunarenapa.com