Meet Our 2022 Community Celebration Honorees!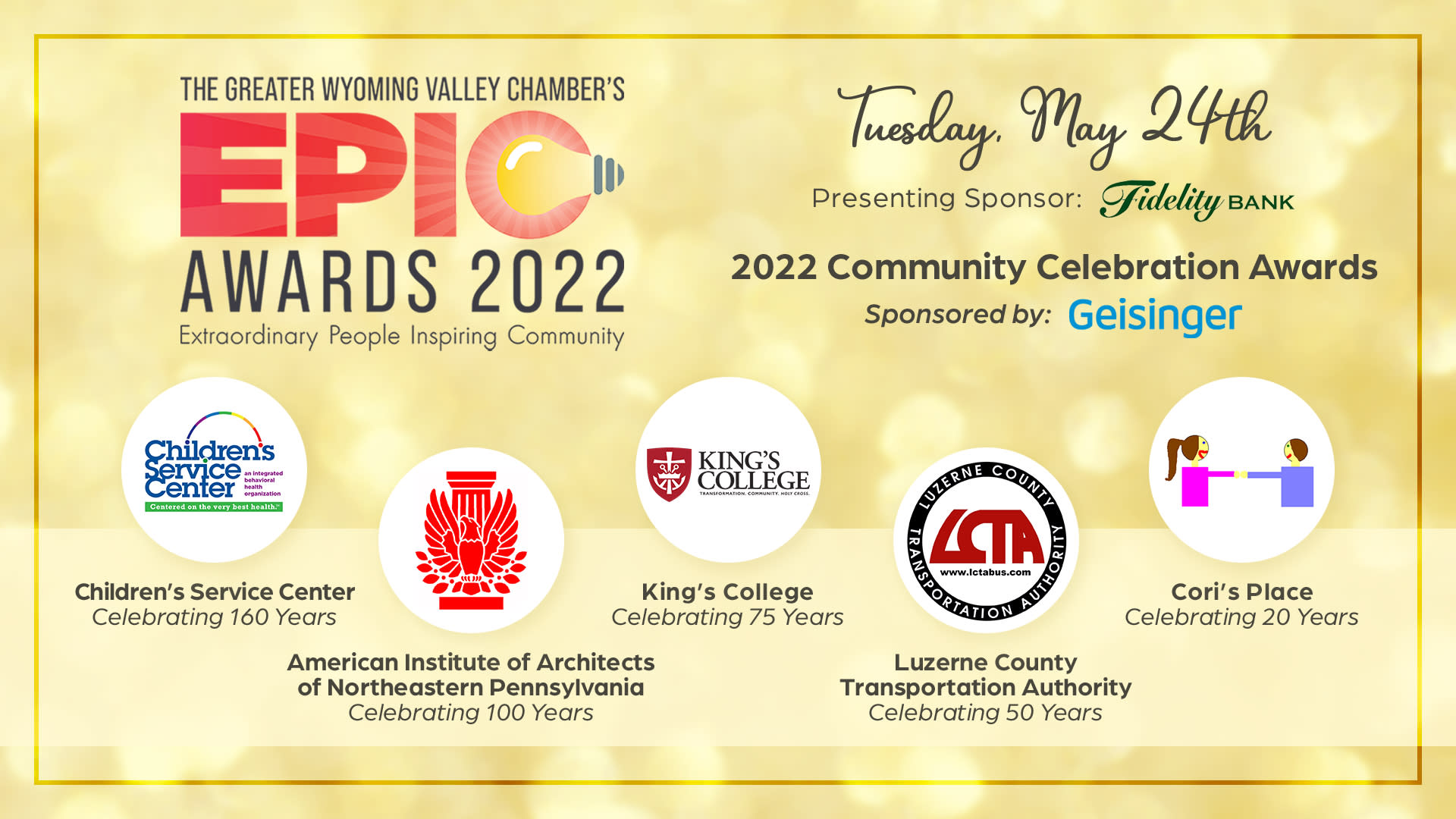 Children's Service Center of Wyoming Valley | Celebrating 160 years
Children's Service Center is a diagnostic and treatment center for children and adolescents with emotional challenges, severe and persistent mental illness, and pervasive developmental disorders like autism. CSC also serves children with developmental disabilities.
The center has deeply entrenched community roots in northeastern Pennsylvania dating back to the 1860s. Incorporated in 1862 as the Home for Friendless Children, the benevolent founders of this organization created a sanctuary in order to provide shelter, food and instruction to a number of destitute children in the Wyoming Valley. With the Civil War raging during the same time, a shelter for many soldier's orphans was gravely needed and the "Home" in Wilkes-Barre graciously opened its doors providing warmth, safety and security for these children ravaged by war. The "Home" continued to attract wide attention both locally and abroad. As its programs grew and developed, it became a nationally renowned shelter and educational center for infants and children. By 1929, the Home for Friendless Children had become the Children's Home, which continued to coordinate services for the children of the Wyoming Valley.
As time went on, it appeared that the children needed more than just "shelter," they needed a home. Some of them had severe behavioral problems and needed psychiatric care. This resulted in two cottages being built, the Martha Bennet Home and the Children's Home. Spearheaded by Dr. J. Franklin Robinson, the cottages became the first two open psychiatric residential settings for children in North America. Not only were children from the local area treated, but also those from other states and countries. It was at about the same time that the Martha Bennet Estate and Children's Home Foundation requested that a newly formed organization – Children's Service Center – be established to manage and oversee the residential program. The creation of Children's Service Center occurred in 1938. Since this time, Children's Service Center has undergone a major expansion of services, particularly collaborating with schools, families and other community agencies. With the needs of children becoming increasingly complicated in an environment of major change in health care and welfare reform, the CSC is faced with the challenge of providing quality services to children in a timely manner. CSC currently serves more than 4,000 clients each year.
American Institute of Architects of Northeastern Pennsylvania | Celebrating 100 years
The Pennsylvania chapter of the American Institute of Architects (AIA), AIA Pennsylvania, represents nearly 3,000 members across the commonwealth working at the forefront of a nearly $17 billion construction industry. AIA Pennsylvania advocates for the value of architecture and policies that promote economic prosperity and the health, safety, and welfare of the public. As a membership organization, they support architecture professionals with the statewide community, advocacy, and knowledge to affect positive outcomes through the power of design.
They educate state legislators, officials, and industry professionals on the importance of a system that enables architects to do great work and move our state forward. AIA Pennsylvania annually organizes and mobilizes members to speak up for better policy through Architects Action Day and District Days. They recognize the visionary solutions and dedication of Pennsylvania's architectural community to affect positive social, environmental, and economic outcomes for communities and clients through four Architectural Excellence Awards programs – the Design Awards, COTE (Committee on the Environment) Awards, Special Awards, and Student Awards.
Through webinars, committees, joint industry and cross-industry events, as well as regional conferences bringing together AIA chapters from across the country, they offer opportunities to develop technical, business, and leadership skills. The EPiC firm assessment and recognition program, mentorship program (PALM), and the Paula Maynes ARE Grant offer additional opportunities for professional development.
King's College | Celebrating 75 years
King's College is a Catholic liberal arts college located in Wilkes-Barre, PA. King's was founded in 1946 by the priests and brothers of the Congregation of Holy Cross from the University of Notre Dame. They strive to create a personal, welcoming environment for students that will give them the tools to succeed while they're there and long after they graduate. Students will find rigorous coursework, competitive sports and an array of activities as easily as they will supportive professors, impressive coaches and friends for life. Classes average 18 students, which fosters a dynamic, personal setting for students to interact with professors and classmates, to succeed academically, socially, and spiritually.
Luzerne County Transportation Authority | Celebrating 50 years
The Luzerne County Transportation Authority ("The Authority"), through the operation of fixed route and shared ride divisions, seeks to provide high quality affordable public transportation services that are safe, reliable, useful, accessible and efficient. To this end, members of the Board of Directors and all employees work to ensure the safety and security of passengers; seek new opportunities to improve and/or expand services; and coordinate public transit services with other agencies, organizations, and transit providers.
Cori's Place | Celebrating 20 years
Cori's Place is a non-profit agency serving adults with intellectual disabilities from Luzerne and Wyoming Counties. Since 2002, Cori's Place has served more than 70 individuals and currently provides services to 57 adults at their day program. They have recently expanded to provide residential services to individuals with intellectual and developmental disabilities. They pride themselves on being a small organization based on the belief that they are one Cori's Place family.
Their mission is "Helping Individuals With Disabilities Create A Better Life" and they achieve this mission by offering a structured curriculum at their day program that involves individual growth and learning opportunities. At their residential locations, they strive to help our individuals be contributing members of their communities while becoming as independent at possible. They focus on each individual's strengths, interests, and preferences, while maintaining and building on current abilities.
Join us for an EPIC night on May 24th to celebrate these wonderful organizations and all of our incredible honorees! This year's event, which is presented by Fidelity Bank, will take place at the F. M. Kirby Center for the Performing Arts and will recognize eight incredible individuals and five community celebrations. Doors will open at 5:00 PM, with the program beginning promptly at 5:30 PM. With your registration, enjoy a $25 voucher for one of our "Dine Local" after-parties at a downtown restaurant! Learn more and register to attend HERE!