Meet Our 2022 DEI Champion of the Year: Dan Kimbrough!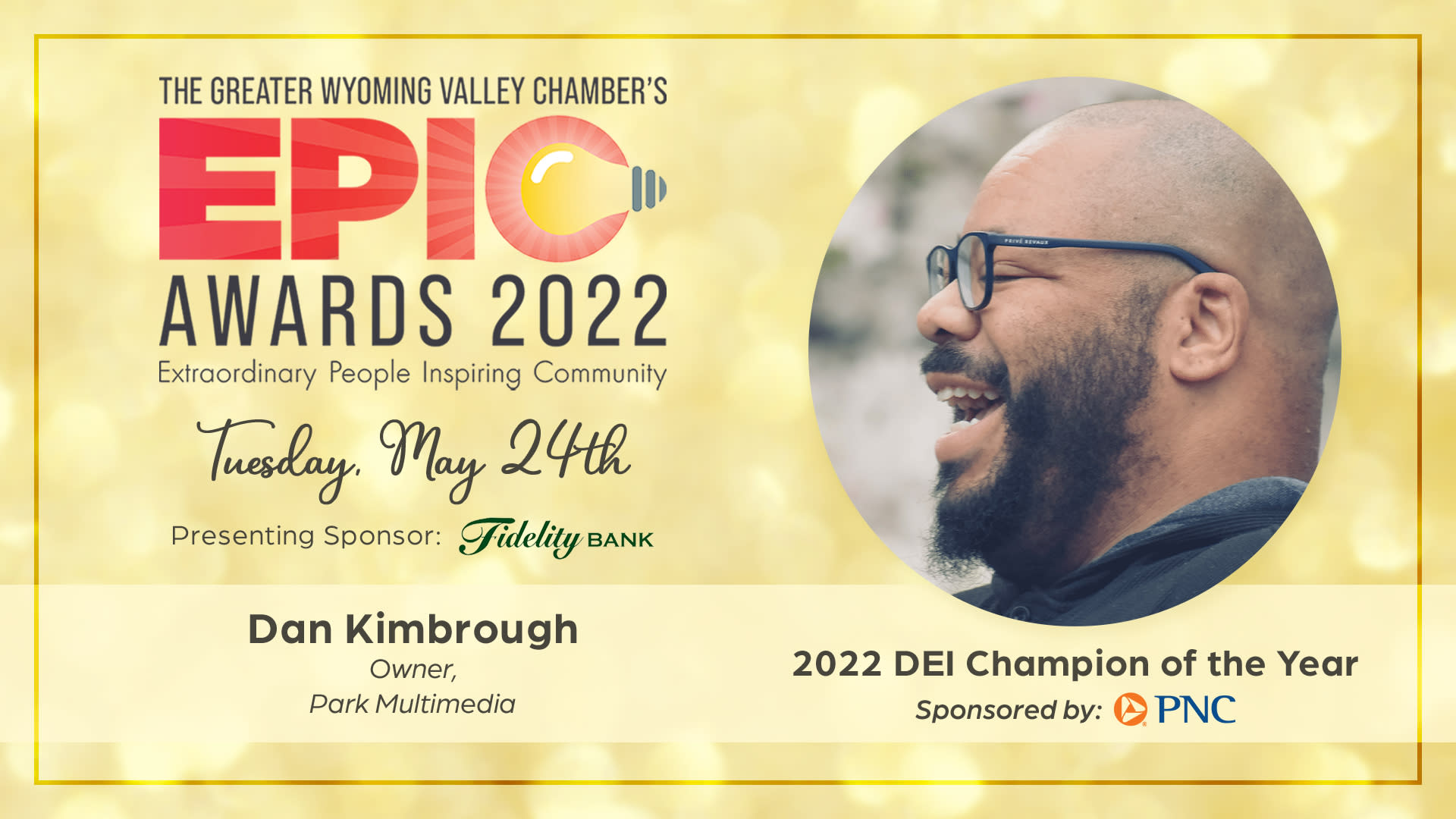 Dan Kimbrough has worked in diversity education and DEI for the better part of 25 years. He has a strong passion for not only understanding cultural differences but also working to help people use these differences to grow together.
Beginning in high school in Indiana, Dan served as a conflict mediator mediating over 100 conflicts during his senior year. While an undergrad at Manchester College (now University), Dan majored in psychology and media studies. His psych degree focused on conflict negotiation and mediation and allowed him to expand his work in mediation. This led to him serving on the towns Conflict Resolution Council. In graduate school at Central Michigan University, Dan blended his media and conflict studies and presented research on Conflict and Traditional Gender Roles in Media and the effects of the Digital Divide on Marginalized Communities. He also completed his first documentary, 30 Years of Title IX, which examined the role of Title IX on female athletes at the University. This work and research laid the early foundation for Dan's DEI consulting and his approach to the subject.
Upon completing his Master's Degree, Dan served as a Residence Director at Syracuse University and helped start a Diversity focused acting troupe that presented scenarios and stories on campus as a catalyst for discussion and exploration of sensitive topics. While there, he also served as a member of the Residence Life staff diversity committee and helped train the RA staff to deal with cultural conflict and differences amongst residents.
Dan moved to NEPA in 2008 to teach at Misericordia University. Over his ten years at Misericordia, Dan taught courses in Media Literacy, Media Criticism, and Intercultural Communications. These courses looked at race, gender, sexuality, religion, disability, and other marginalized areas through the scope of representation, access, and equity. Dan's research and work led him to present or co-present at national conferences on subjects including Women in the Media, Diversity in Television, Equity in Content Creators, and Voting Access for the Disabled Community. He also chaired the Multicultural Studies Division for the Broadcast Education Association.
Alongside his duties in the classroom, Dan helped to create the position of Minority Student Outreach Coordinator and started the program Misericordia University Multicultural Education (MUME). Dan and his colleagues realized a lack of multicultural and diversity education focused on students and sought to fill the gap. Dan also helped co-advise the Multicultural Club and the TEAM mentoring program. Dan also represented the University as a chaperone on 9 Habitat for Humanity trips and Mission trips to Jamaica and Peru, often working with students on understanding cultures and people who differ from their own.
Since 2020, Dan has begun work as a DEI consultant, training and educating on topics around Implicit Bias, Systemic Racism, Cultural Difference, and Working with Marginalized Groups. Dan serves on many local boards in NEPA. These include the Wyoming Valley Chamber of Commerce, American Cancer Society NY-PENN Region, Big Brothers and Big Sisters of NEPA, The American Advertising Federation, the Chair of the Wyoming Valley Chamber's DEI Committee, and the Technical Director for Scranton Fringe. Dan also produces a podcast, Systemic, which explores issues and topics around Systemic Racism in America.
Join us for an EPIC night on May 24th to celebrate Dan and all of our incredible honorees! This year's event, which is presented by Fidelity Bank, will take place at the F. M. Kirby Center for the Performing Arts and will recognize eight incredible individuals and five community celebrations. Doors will open at 5:00 PM, with the program beginning promptly at 5:30 PM. With your registration, enjoy a $25 voucher for one of our "Dine Local" after-parties at a downtown restaurant! Learn more and register to attend HERE!