Meet Our 2022 Innovators of the Year: John Phillips, Josh Balz, Aaron Bruch, Kris Jones & Mat Giordano!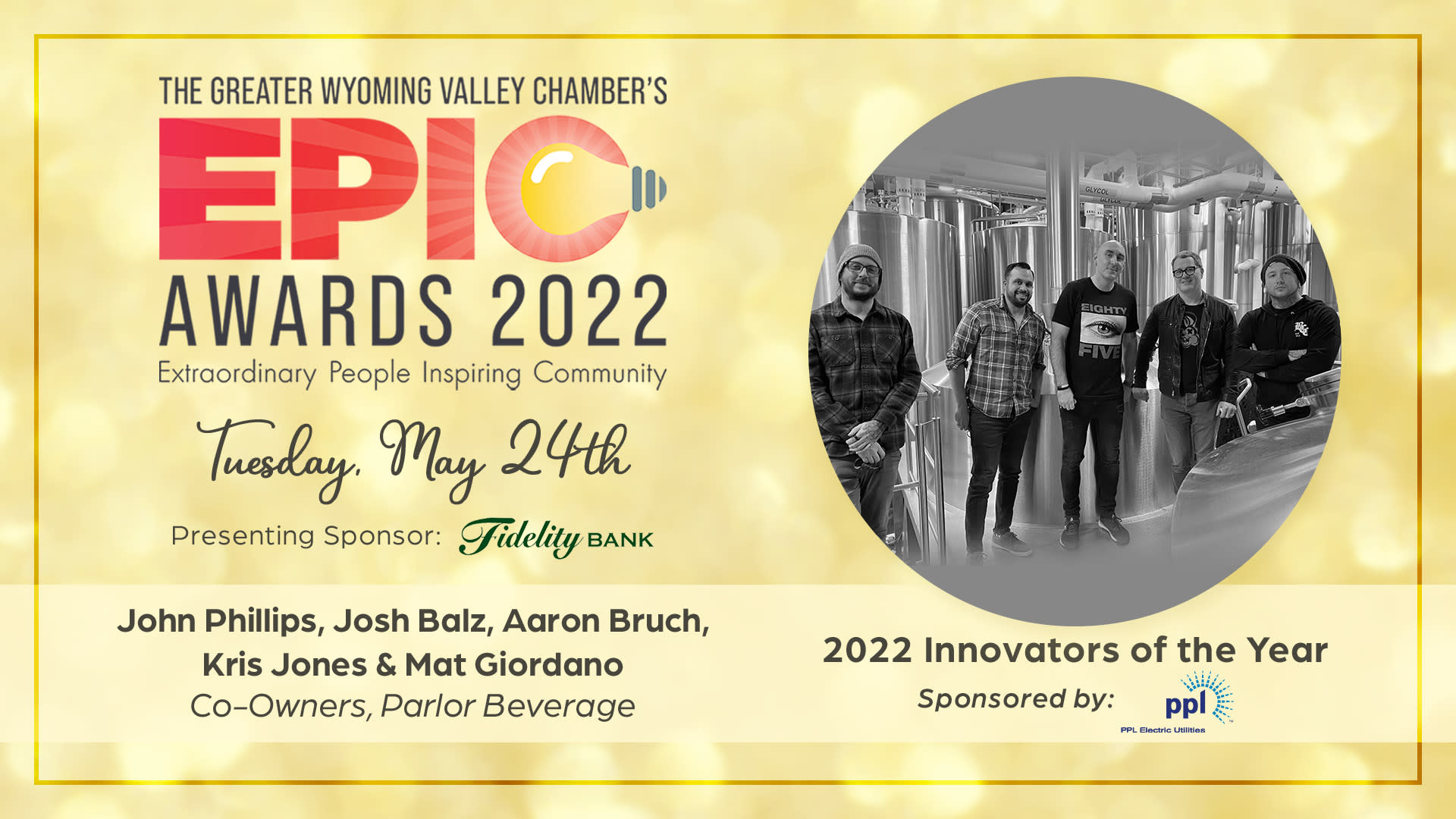 John Phillips, Josh Balz, Aaron Bruch, Kris Jones & Mat Giordano are the Co-founders of Parlor Beverages, which sells root beer, butterscotch root beer and birch beer. Parlor Beverages launched in 2021 during the COVID-19 pandemic and has since grown exponentially, and have been innovative in their product, collaboration, marketing, and advertising. Here is a little bit more information about each of these five Innovators of the Year:
John Phillips:
The last ten years John has spent acting as an entrepreneur, an investor, a creator, a musician, and working in the music industry for some of the largest music artists in rock and hip hop. He finds that it is a reward everyday to work with "such amazing people from across the world learning of cultures and industries and bringing them back home to the root of where all of the greatness in my opinion begins which is Northeastern Pennsylvania and being a part of the Wilkes-Barre community."
Josh Balz:
Josh is a musical entrepreneur who has toured and played thousand of shows with Motionless in White, where he has also appeared on MTV and multiple radio shows. He is also the Owner of The Strange & Unusual, an oddities parlor featuring antiques and a unique experience. He started it in 2013 and it has since grown to multiple locations. He also owns and operates the Strange Brew Cafe, located inside The Strange & Unusual, which is a whimsical coffee shop serving unique coffee concoctions, teas and potions drinks.
His other endeavors include Noir Dark Spirits, a dark but pleasant establishment in Scranton that brings you the finest cocktails and unique shareable dishes, and is designed in a collaboration with chef David Cinimnelli. He also run HorrorHub, an online multi vendor market place connecting thousands of buyers and sellers of horror merchandise.
Aaron Bruch
Aaron is the bassist and vocalist for the multi-platinum band Breaking Benjamin. He is an avid gamer, sometimes a Twitch streamer, and a lover of beers, both root and birch.
Kris Jones:
Kris is the founder and former CEO of Pepperjam. In 2010, Kris founded KBJ Capital, LP and has since invested in 35 early stage technology and fast growth companies. Over the years, Kris has locally founded multiple multi-million dollar startups, including ReferLocal, APPEK Mobile Apps, French Girls App, LSEO.com, Special Guest App, and most recently - the Accelerator at Wilkes Barre. Kris is an avid sport fisherman and a diehard Philadelphia Eagles, Villanova Wildcats, and Philadelphia 76'ers fan. Kris lives in the Back Mountain with his equally talented wife Robyn and three kiddos - Kris Jr., Lauren, and Jackson.
Mat Giordano:
Mat is the Creative Director and Managing Partner of Posture Interactive, a full-service 360 digital marketing agency based in Scranton PA. He is also a horror enthusiast and rabid toy collector.
Join us for an EPIC night on May 24th to celebrate Dan and all of our incredible honorees! This year's event, which is presented by Fidelity Bank, will take place at the F. M. Kirby Center for the Performing Arts and will recognize eight incredible individuals and five community celebrations. Doors will open at 5:00 PM, with the program beginning promptly at 5:30 PM. With your registration, enjoy a $25 voucher for one of our "Dine Local" after-parties at a downtown restaurant! Learn more and register to attend HERE!