Meet Young Professionals Conference Speaker Jennifer Ciarimboli!
Founder + CEO of studio BE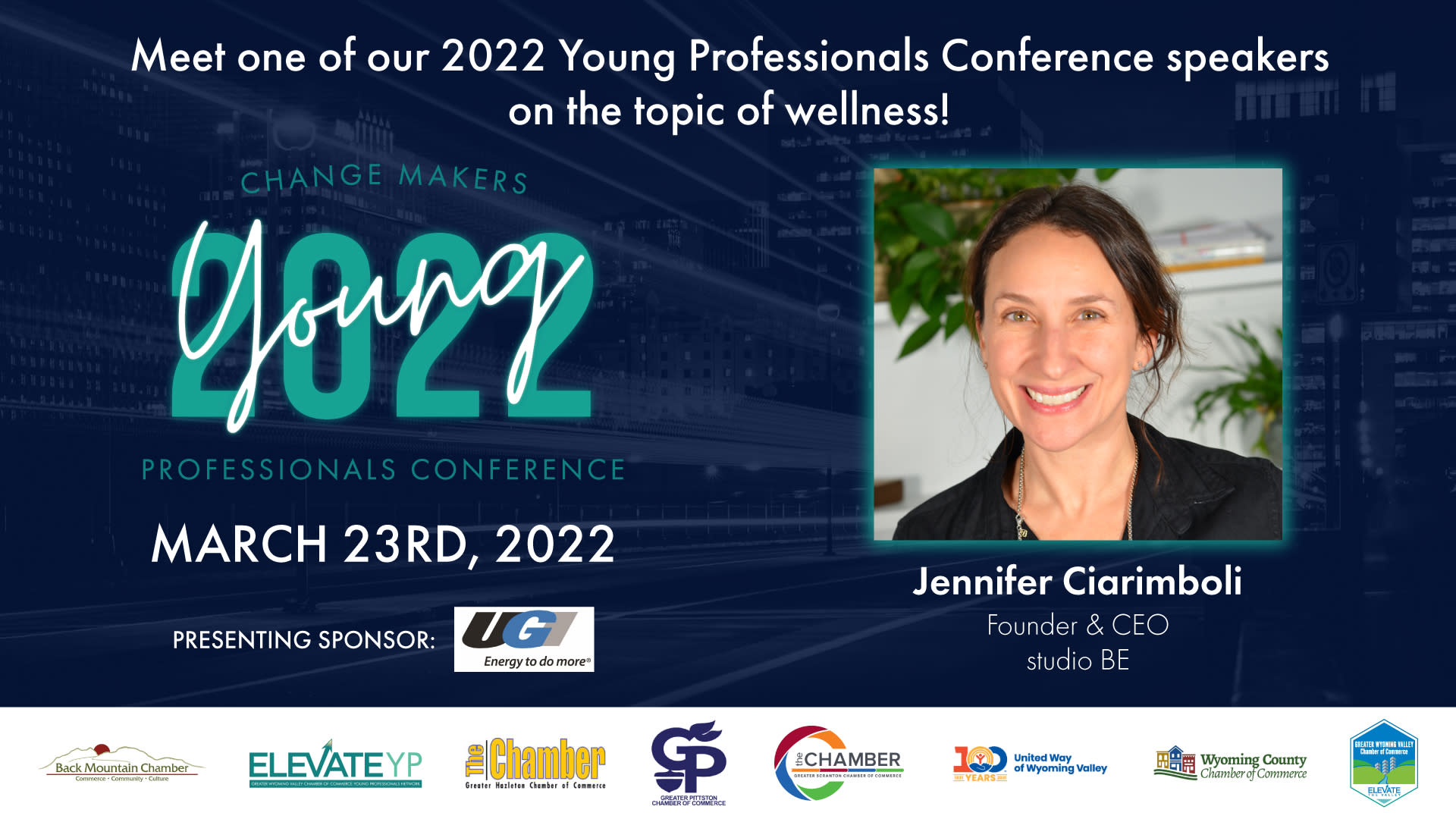 Suffering from burnout after nearly a decade in corporate sales, Jennifer Ciarimboli walked away from her career and her successes to transform her life. She embarked on a journey of deep study, training with world-renowned experts in yoga, the teachings of the Buddha, spiritual inquiry, and mindfulness meditation, opening her heart and mind to a new way of serving the world. Jennifer recognized that if she had access to mindfulness meditation years ago, she might have been better able to manage stress—and from this insight, studio BE was born. studio BE specializes in well-being based on mindfulness and mindfulness-based practices—including meditation, psychological inquiry, body integration, breathwork, and other alternative modalities—taught both on-site and virtually. The goal of the company is simple: to reduce suffering in the world. This is achieved by helping individuals cultivate their own inner-resources, resulting in happier, more resilient people. When these practices are embraced wholeheartedly within organizational culture, it opens the door to unlimited potential for better connection, deeper trust, and renewed creativity—this is the new face of the 21st-century workplace.
About Jenn's session on the topic of wellness:
"Self-care" is everywhere these days. Companies of all sizes are increasingly offering corporate mindfulness and yoga training as a "self-care" benefit. But these practices are so much more. Because mindfulness is rooted in relationships, we recognize that one person can't heal — or thrive — alone. A flourishing community means that employees come together in the name of mutual aid as often as they splash out on massages or spa days.
In this session, you'll learn how simple mindfulness practices can nourish your inner self and how they are grounded in an understanding that self-care and community-care thrive hand-in-hand. Strengthen your corporate culture by deepening your understanding of workplace well-being, employee relationships, and how to show up in the world as a team committed to the greater good.
This session will be interactive and engaging, featuring embodied practices (such as a short meditation or a brief yoga break) conversation about what self-care and community-care mean, and discussion about what the greatest challenges are to individual and collective wellness. The nature of this content is inherently intimate and human; Jennifer is a skilled facilitator who lends humor, charisma, and connection to her presentations. She will offer relatable, practical tips and tools for attendees to apply to their own lives.
Interested in hearing her speak at the 2022 Young Professionals Conference? Get more information on the event and get tickets HERE!