2022 Young Professionals Conference
Wednesday, March 23, 2022 (9:00 AM - 4:30 PM) (EDT)
Description
2022 Young Professional Conference
Our 4th Young Professionals Conference is happening on March 23rd, 2022, hosted in partnership with the United Way of Wyoming Valley and our regional chambers, and presented by UGI Utilities, Inc.
Join us for an in-person mixer the night before the conference at the Tomato Bar in Pittston, where you could network with the other conference attendees and speakers!
This day-long conference is aimed at developing our area's talented professionals, featuring amazing speakers in our region between the ages of 20-45. This year , with the safety of everyone in mind, we are hosting this conference virtually. The theme of this year's conference is "Change Makers" and will feature two tracks of breakout sessions, with topics like wellness, entrepreneurship, personal finance, leadership development, innovation, and goal setting. There will be frequent breaks throughout the day with interactive sessions!
Learn more about our Keynote Speaker:
Jimel Calliste serves as President of the Wilkes-Barre NAACP, a title he has held since November 2020. He is also the Advisor of the Pennsylvania NAACP State Conference Youth and College Division, serving as the youngest in history for both positions. President Calliste spearheaded the founding committee at Bloomsburg University of Pennsylvania in 2015. He is a nationally certified NAACP civic engagement trainer and used the skills learned to organize over 10 universities across the commonwealth for a unified voter registration, engagement and turnout initiative in 2018.
In 2019, he joined the NAACP's NextGen Program, which provides comprehensive leadership and advocacy training for young adults on a mission to become the next generation of civil rights leaders. Successful graduates become boots on the ground in their communities and local NAACP branches, sustaining the fight for equality for all. A longstanding member and leader of the NAACP, Mr. Calliste is helping guide the Wilkes-Barre branch through a period of re-envisioning and reinvigoration.
Under President Calliste's leadership, the branch has undertaken such efforts as the reinstatement of their Youth Council (Unit 29 AM), establishing new committees such as Housing, Young Adult, Entertainment, Grants, and the Covid-19 Strikeforce. Their 2021 Freedom Fund banquet was the best attended in branch history. The branch's social media footprint has grown with the launch of YouTube, Instagram, TikTok and LinkedIn profiles.
Born in Brooklyn, NY, Mr. Calliste attended High School for Civil Rights, and Law in Brooklyn, NY. Mr. Calliste is a young activist who has dedicated much of his career to defending the rights and improving the lives of the underserved. As President of the Bloomsburg University NAACP, he led critical campaigns for voting registration and diversity amongst campus faculty and staff. He supported the formation of the Bloomsburg University Beyond the Fountain Event, an event for dialogue about racism in Bloomsburg between students of color and the community.
President Calliste is frequently featured on PALIVE, WBRE/WYOU, CBS, ABC and many others, advocating on behalf of the Black community and all those who are affected by systemic oppression and prejudice.
For any questions or sponsorship opportunities, please email Michaela@wyomingvalleychamber.org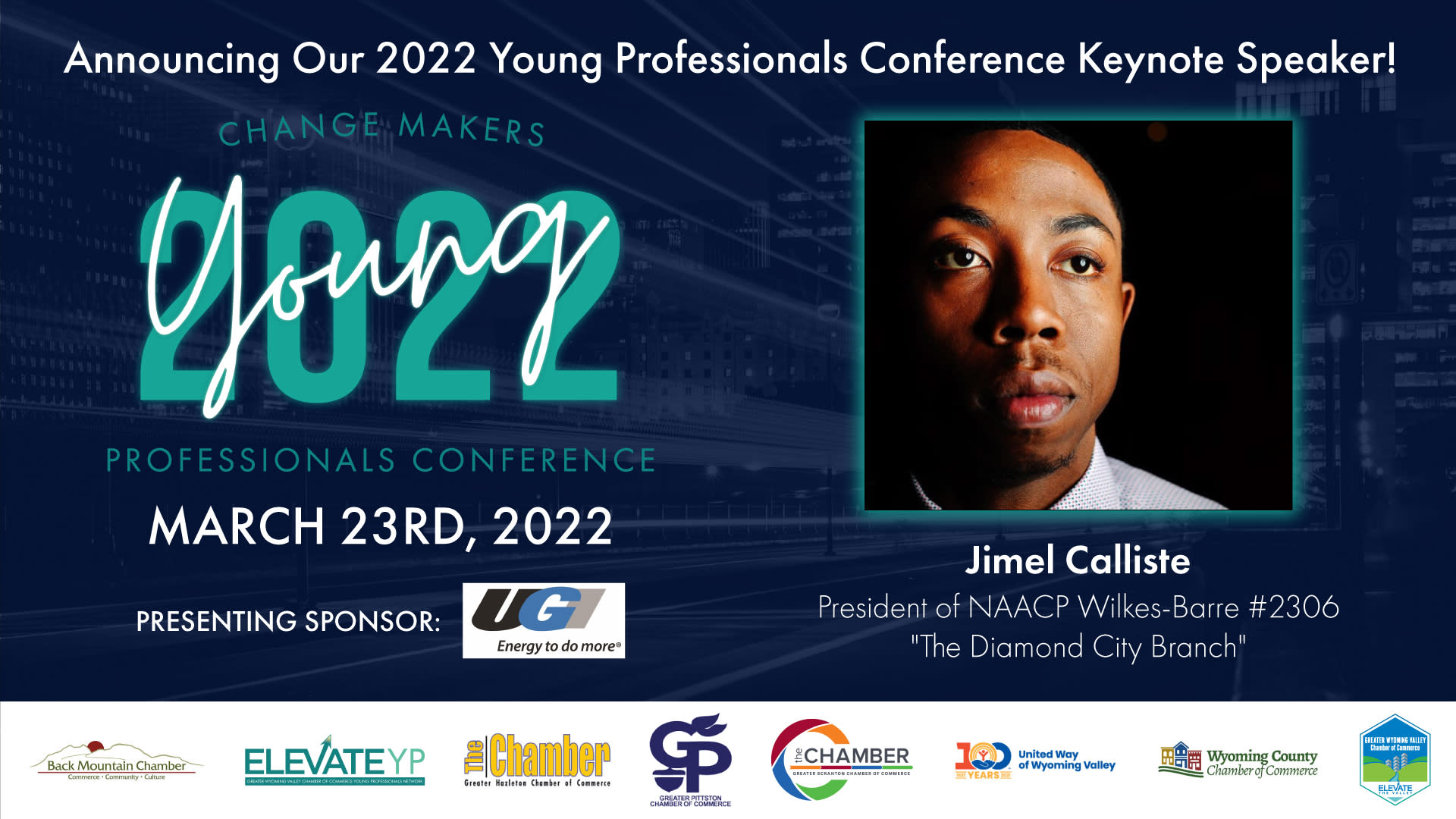 Images
Wednesday, March 23, 2022 (9:00 AM - 4:30 PM) (EDT)
Categories
Young Professionals
Leadership W-B
General
Downtown WB
Chamber
Community