2022 Athena Panel Luncheon
Tuesday, April 26, 2022 (11:00 AM - 1:00 PM) (EDT)
Description
Please join us for an educational and interactive discussion from our area's most inspiring women. The Greater Wyoming Valley Chamber's Women's Network will host the ATHENA™ Panel Luncheon on April 26th at The Westmoreland Club! Lunch will be provided, and our panel of ATHENA honorees will discuss topics from career advice to professional advancement.
This year's panelists include Kathi Bankes, Ruth Borland, Ruth Corcoran, and Judy Ellis. Please see below for more information about our panelists!
Ruth Borland
Ruth Borland serves as an Attorney for her family business, Borland & Borland, LLP, where she has served for over 40 years. Ruth received her B.A. from Dickinson College and her J.D. from Boston University. She is currently a Wilkes-Barre Law & Library Association Member; a Member of the Family Law Committee; an Attorney for the Wilkes-Barre Law and Library Association, In re Wyoming, International Moot Court; and a Member of the Bench Bar Committee (Family Law Coordinator).
In the community, Ruth currently serves as Council for the Domestic Violence Service Center, as Board Member and President for Valley Santa, Inc. She is also a Circle 200 Member, and a Board Member for the Diamond City Partnership and the American Cancer Society of NEPA. Ruth also serves as a Wilkes-Barre Area School District and Meyers High School Debate Coach and is a Member of the Rotary Club of Wilkes-Barre.
Ruth has received numerous community awards and recognitions, including: National Association of Social Workers, Public Citizen of the Year - 1987; Athena™ Award – 1990; United Way of Wyoming Valley – Rose Brader Award – 1990; Children's Service Center Community Service Award – 1997; Pennsylvania Clubhouse Coalition – Employment Recognition Award, 2007; Wilkes-Barre Chamber of Commerce Small Business of the Year – 2012; Association of the Blind Distinguished Community Service – October 2014; Raymond G. Joseph Lifetime Mohawk Award- 2015; Rainbow Alliance Rainbow Award – 2015; McGlynn Center Service Award - 2017; and Luzerne County Bar Association President's Award- 2018.
Ruth loves spending time with her family when she is not volunteering in the community, including her husband, Kimberly D. Borland, Esquire, her daughter, Sarah L. Borland, Esquire, and her son, Joseph C. Borland, Esquire.
Judy Ellis
Judith Ellis worked at First Eastern Bank from 1967-1992 as a Trust Officer, and then began working at Misericordia University in fundraising from 1992-2016. She graduated from Misericordia with a Bachelor of Science degree and received an MBA from Wilkes University.
She has always had a passion for community service, and served on the Luzerne County Community College Board from '05-'08, and as their Board Chair from '07-'09. She is a Circle 200 member and involved with the Osterhout Free Library, the Catholic Youth Center, Leadership Northeast, Misericordia Alumni Association, and also served as the United Way of Wyoming Valley Campaign Co-Chair in the past.
Judith received the Athena™ Award in 2004 and was Mercy Woman of the Year 2011 for the Sisters of Mercy.
Ruth Corcoran
In 2000, Ruth Corcoran started Corcoran Communications, a PR & Marketing Firm that is now celebrating 20 years in business. The firm provides PR, digital marketing, graphic design and web services to many businesses in Pennsylvania, New York and New Jersey. Ruth's diversity of clients has provided her with unique experiences to showcase her marketing skills.
In 2007, Ruth decided to venture into a new business opening Cork Bar & Restaurant, a popular eatery that earned the number one spot on Trip Advisor and won many local reader's choice awards. She successfully operated Cork for ten years before selling in 2017. In 2015, Corcoran opened her third business, COR Strategic Group, to focus on marketing for credit unions. COR was eventually merged into Corcoran Communications and her son Greg joined the company to oversee digital marketing.
Articles written by Ruth on behalf of clients have appeared in many local and national publications. She has generated publicity for clients via press releases that appeared in outlets including The Washington Post, Wall Street Journal, New York Times, USA Today, CNN, Tokyo TV and MSNBC, among others. Ruth has earned many honors, including 2020 Athena Award from the Greater Wilkes-Barre Chamber, NEPA Top 20 Under 40, NEPA Woman Entrepreneur of the Year, Best 50 Women in Pennsylvania Business, Greater Wilkes-Barre Chamber Small Business of the Year and an Enterprising Women Magazine award. She has also won Gold & Silver Addy Awards.
Ruth has been extremely involved in the non-profit Fork Over Love, both as a director, in spearheading PR, and in planning events since the organization's inception in 2021. She has donated much of her time to many other local non-profit community organizations, including the Wyoming Valley Children's Association (WVCA), Catholic Youth Center (CYC), Commission for Economic Opportunity (CEO), Osterhout Library, Wilkes-Barre YMCA, Junior League, SPCA and Leadership Wilkes-Barre. Ruth is also active on many non-profit boards and is a member of Circle 200, the Greater Wilkes-Barre Chamber and POWER. Always up for a challenge in her efforts to support the local community, in 2016, Ruth rappelled down a 14-story building in Scranton to raise funds for NeighborWorks NEPA. In 2017, she stepped way out of her comfort zone to perform at Dancing with the Wilkes-Barre Stars to raise money for KISS Theatre. While she owned Cork, she began the "Dog Days of Summer" fundraiser to benefit the SPCA, raising tens of thousands of dollars through the years. Supporting rescues has always been close to her heart. She is a proud mama to her pups Maddie from Blue Chip Farms Rescue and Dixie from NEPA Pet Fund & Rescue. Her biggest puppy love was Snickers, a rescue from the SPCA who was with her for 14 wonderful years.
Ruth resides in Bear Creek Township with her husband Bill, the owner of Corcoran Printing, a 4th generation family business. The couple has four children. She is most proud of the wonderful, caring adults her children have become. Ruth enjoys travel, hiking, reading and spending time with family and friends.
Kathi Bankes
A native of Carbondale, Kathi Bankes has spent most of her life living and working in northeastern PA. Currently, she serves as the Private Dining and Special Events Manager for Ruth's Chris at Mohegan Sun Pocono and Director of Catering and Special Events for Culinary Creations by Metz. In this dual role, Kathi has had the distinct pleasure of creating memorable experiences and moments for her guests and clients and has forged countless relationships that have impacted her charitable work in the community.
After moving to Luzerne County in 1999, Kathi became involved with the Greater Wyoming Valley Chamber of Commerce. Since that time, she has held numerous leadership, committee, and Board roles with the Greater Wyoming Valley Area YMCA, American Heart Association, Dinners for Kids, Northeast Sight Services, American Red Cross, Wyoming Valley Children's Association, and Back Mountain Chamber of Commerce. In 2019, the Times Leader chose Kathi for their Distinctive Women Series, in 2016, she was named the Volunteer of the Year by the former Greater Wilkes-Barre Chamber of Commerce, and she was also named the 2021 Athena™ Recipient.
Prior to her current positions, Kathi was the General Manager of Lucky's Sports House and Bar Manager of TGI Friday's Wilkes-Barre. She also held roles with Genetti's Best Western, Falcone Beverage, and Nestle/General Mills. During her downtime, Kathi enjoys spending time with her family, including her husband Dave, her three adult children, John Baldino, Shauna Baldino, and Kelsey Tyson, and her six grandchildren, Brady, Meryn, Caroline, Cooper, Sawyer, and Luca, who bring her more joy than they will ever know. She enjoys visiting local wineries and breweries and cooking at home for immediate and extended family and friends.
Kathi's greatest pleasure, outside of her family, is having the opportunity to mentor young adults in Luzerne County and helping others to reach their fullest potential.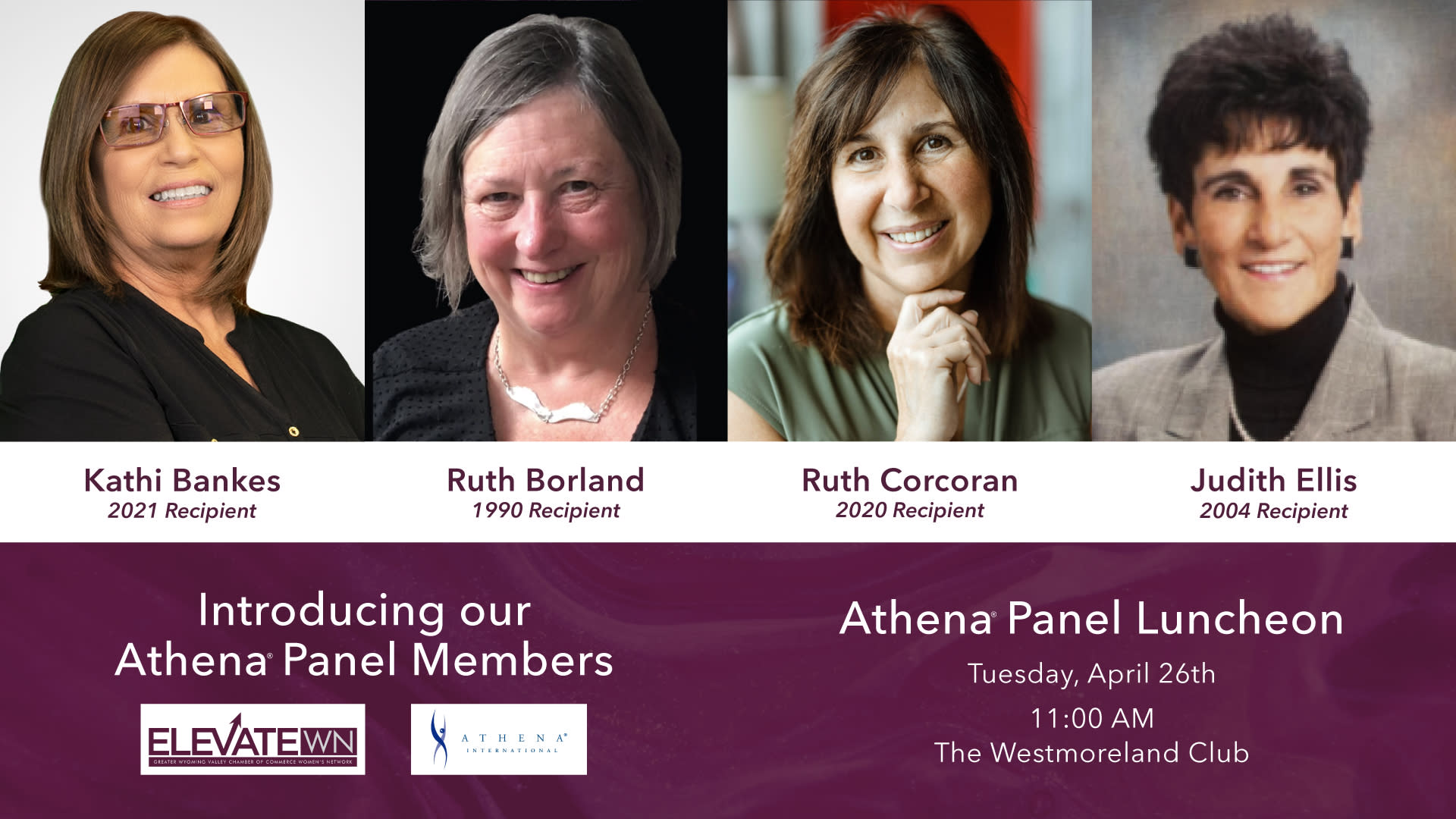 Westmoreland Club
59 South Franklin Street



Wilkes-Barre

,

PA

18701

United States



Tuesday, April 26, 2022 (11:00 AM - 1:00 PM) (EDT)
Categories
Women Empowerment
Chamber
Community