2023 Annual Dinner
Thursday, November 16, 2023 (5:30 PM - 5:30 PM) (EST)
Description
Join us for the Greater Wyoming Valley Chamber of Commerce's 2023 Annual Dinner, being held on Thursday, November 16th, 2023 at Mohegan Pennsylvania!
The Greater Wyoming Valley Chamber of Commerce's most popular and well-attended event of the year gives attendees the opportunity to network with over 500 of the area's business leaders and professionals and celebrate top business honorees.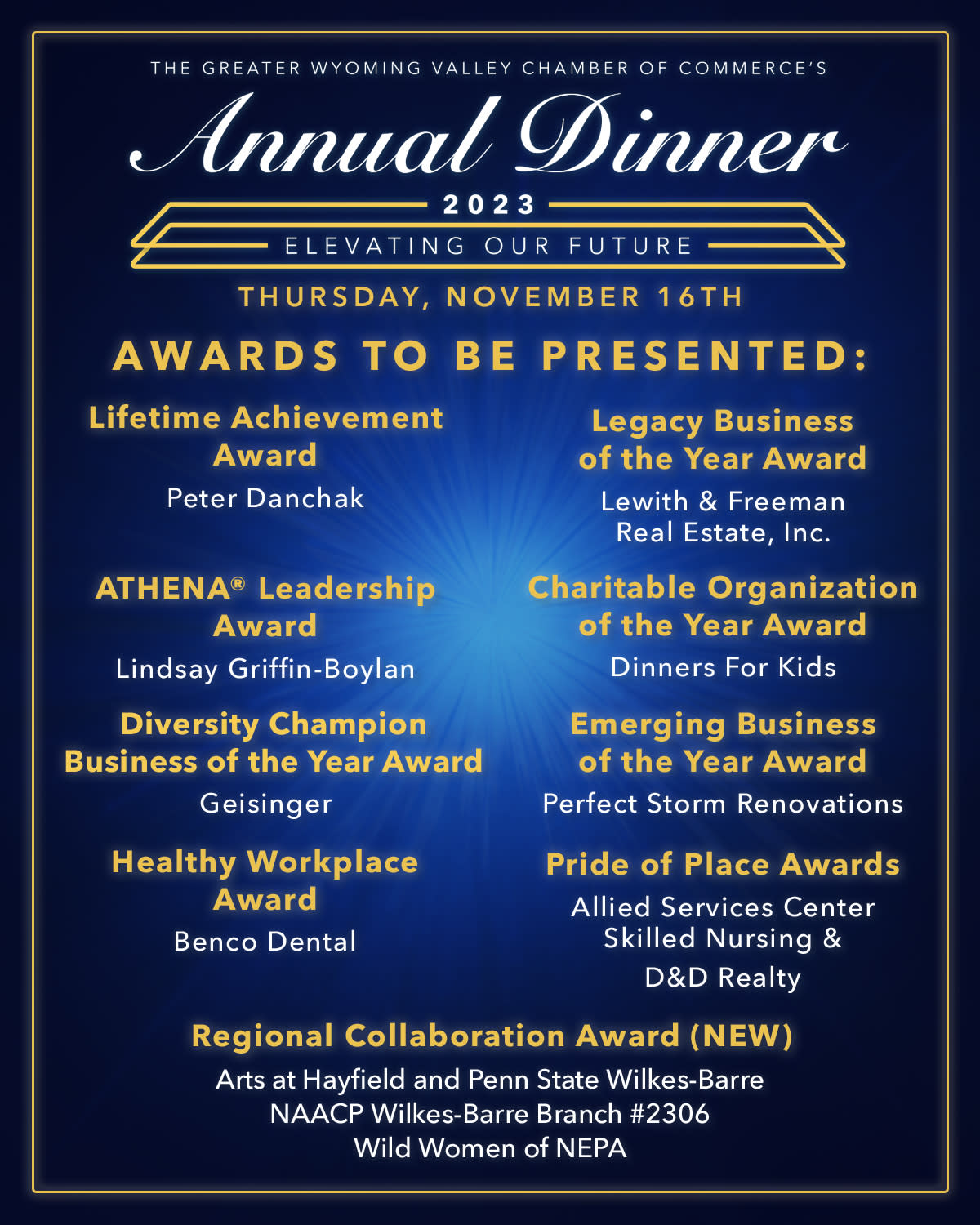 ---
The 2023 honorees include:
Lifetime Achievement Award: Peter Danchak, Regional President of the Northeast PA Region of PNC
This prestigious recognition honors an individual whose spirit and commitment have left an undeniable mark on our region. It stands as a testament to their enduring legacy, forged through years of exemplary leadership, inspiration, and an unparalleled positive influence that reverberates not only within the business community but resonates across our entire community, leaving a profound and lasting impact. For all he has done and continues to do for our region and community, Pete Danchak is the embodiment of those qualities, and the organization is honored to present him with the 2023 Lifetime Achievement Award.
Legacy Business of the Year Award: Lewith & Freeman Real Estate, Inc.
Lewith & Freeman Real Estate is a true cornerstone in our community's history and has been since its inception in 1921. For over a century, their unwavering commitment to providing unparalleled service has been a testament to their success. This accolade is reserved for an organization with a rich history of excellence, leadership, masterful marketing, unwavering customer satisfaction, and unparalleled community engagement. As a cornerstone of the Greater Wyoming Valley, this business exemplifies what it means to leave a lasting legacy.
Charitable Organization of the Year: Dinners for Kids
Dinners for Kids, founded in 2011 by the altruistic minds behind Ollie's restaurant, embarked on a noble mission to combat childhood hunger with a focus on nutritious, balanced meals. Their steadfast commitment to providing at-risk children in the greater Wyoming Valley with freshly prepared, "kid-approved" dinners, complete with microwave-safe containers and fresh fruit, is nothing short of remarkable. This award recognizes and honors local nonprofits that have improved the welfare of the Greater Wyoming Valley community.
The ATHENA® Leadership Award: Lindsay Griffin-Boylan
Lindsay Griffin-Boylan is the embodiment of the ATHENA Leadership Award's core principles. The ATHENA Award is an international award program that honors women who strive to serve as a mentor or role model for helping women reach their full leadership potential.
With an unwavering dedication to professional excellence and an exceptional commitment to community betterment, Lindsay has also consistently demonstrated her passion for assisting others, particularly women, to open doors of leadership and opportunity. Her achievements and tireless efforts serve as a shining example of the positive impact one can have when driven by a genuine desire to uplift and empower others.
Emerging Business of the Year Award: Perfect Storm Renovations
Perfect Storm Renovations has captured the spotlight as the Emerging Business of the Year Award recipient. This recognition is a testament to their excellence in business, visionary leadership, masterful marketing, and deep community involvement. As a growing force in the Greater Wyoming Valley, Perfect Storm Renovations embodies the spirit of innovation and determination that fuels their continued growth. Their commitment to both their craft and their community sets a stellar example for aspiring businesses in the region.
Diversity Champion Business of the Year Award: Geisinger
Geisinger is recognized as the Diversity, Equity, and Inclusion (DEI) Champion Business of the Year for their commitment to fostering diversity within their workforce and the broader community. This award underscores their dedication to DEI as they align company goals and dedicate substantial efforts to recruit, retain, and nurture a culturally diverse workforce. Geisinger's resolute commitment to our community and to creating an inclusive environment sets the standard for businesses and organizations in our region.
Pride of Place Awards: Allied Services Center City Skilled Nursing and D&D Realty
We are so pleased to honor both D&D Realty and Allied Services Center City Skilled Nursing as joint recipients of the esteemed Pride of Place Awards. This accolade celebrates their commitment to enhancing the physical landscape of the Greater Wyoming Valley area, making it a more vibrant and appealing place for all. D&D Realty and Allied Services Center City Skilled Nursing projects have not only raised the bar in their respective fields but have also significantly contributed to the transformation and improvement of our community's physical environment.
Healthy Workplace of the Year Award: Benco Dental
Benco Dental is truly deserving of the Healthy Workplace Award, a recognition that highlights their unwavering commitment to the well-being of their employees. Through their partnership with United Healthcare's Wellness program, Rally Health, Benco Dental has set a gold standard in promoting health and wellness in the workplace. What sets them apart is their dedication to ensuring that all associates, regardless of their medical insurance plan, have access to a wide array of annual wellness opportunities to ensure this is a priority in their workplace.
Regional Collaboration Award: Arts at Hayfield and Penn State Wilkes-Barre, Wild Women NEPA, and the Wilkes-Barre NAACP Branch #2306
It is with great pride that we honor a brand new award this year, focused on our strategic goal of regional connectivity by celebrating those who are using collaboration for the betterment of our area. These remarkable organizations have epitomized the essence of collaboration, joining forces on a significant project that has brought about transformative change in our region. Their collective efforts underscore the profound impact that effective relationships and the spirit of unity can have on the Greater Wyoming Valley community. Through their shared vision, they have demonstrated the power of working together to address critical needs and serve the community. We celebrate these collaborative champions for their remarkable contributions and their inspiring example of what can be achieved when organizations come together for the greater good.
---
Ticket pricing includes Stations Dinner and cocktail reception. Doors open at 5:30 pm and program to begin at 6:30 PM.
For sponsorship opportunities, please contact Michaela at 570-408-1721 or Michaela@wyomingvalleychamber.org.
Mohegan Sun Pocono
1280 Highway 315



Wilkes-Barre

,

PA

18702

United States



Event Contact
Michaela Grundowski
Thursday, November 16, 2023 (5:30 PM - 5:30 PM) (EST)