Wilkes-Barre Connect Spotlight
Wednesday, September 21, 2022 (5:00 PM - 7:00 PM) (EDT)
Description

Save the date for our next Wilkes-Barre Connect Spotlight! The Spotlight program features quarterly events that provide an opportunity for industry leaders and entrepreneurs in NEPA to meet, discuss and identify potential partnerships. Each event features a fifteen-minute presentation from an entrepreneur with regional ties, as well as shorter spotlights featuring local entrepreneurs, students, and non-profits. Spotlight is a Wilkes-Barre Connect program coordinated by the Diamond City Partnership and sponsored by Penn State Wilkes-Barre, through the Invent Penn State initiative.
This quarter's Spotlight is in collaboration with the Greater Wyoming Valley Elevate Women's Network, and is dedicated to Women in the Event Industry, highlighting some of our area's incredible women entrepreneurs. There are so many moving parts that go into making an event come together, and the road to fulfilling creativity looks different for everyone. This event's speakers will showcase their work, their stories, and their thoughts on pursuing the industry at a young age and how it plays into female entrepreneurship. Members of the community and local students in attendance will get the opportunity to hear these stories, network and connect with those working in this space, and see examples of their work. Learn more about our speakers below: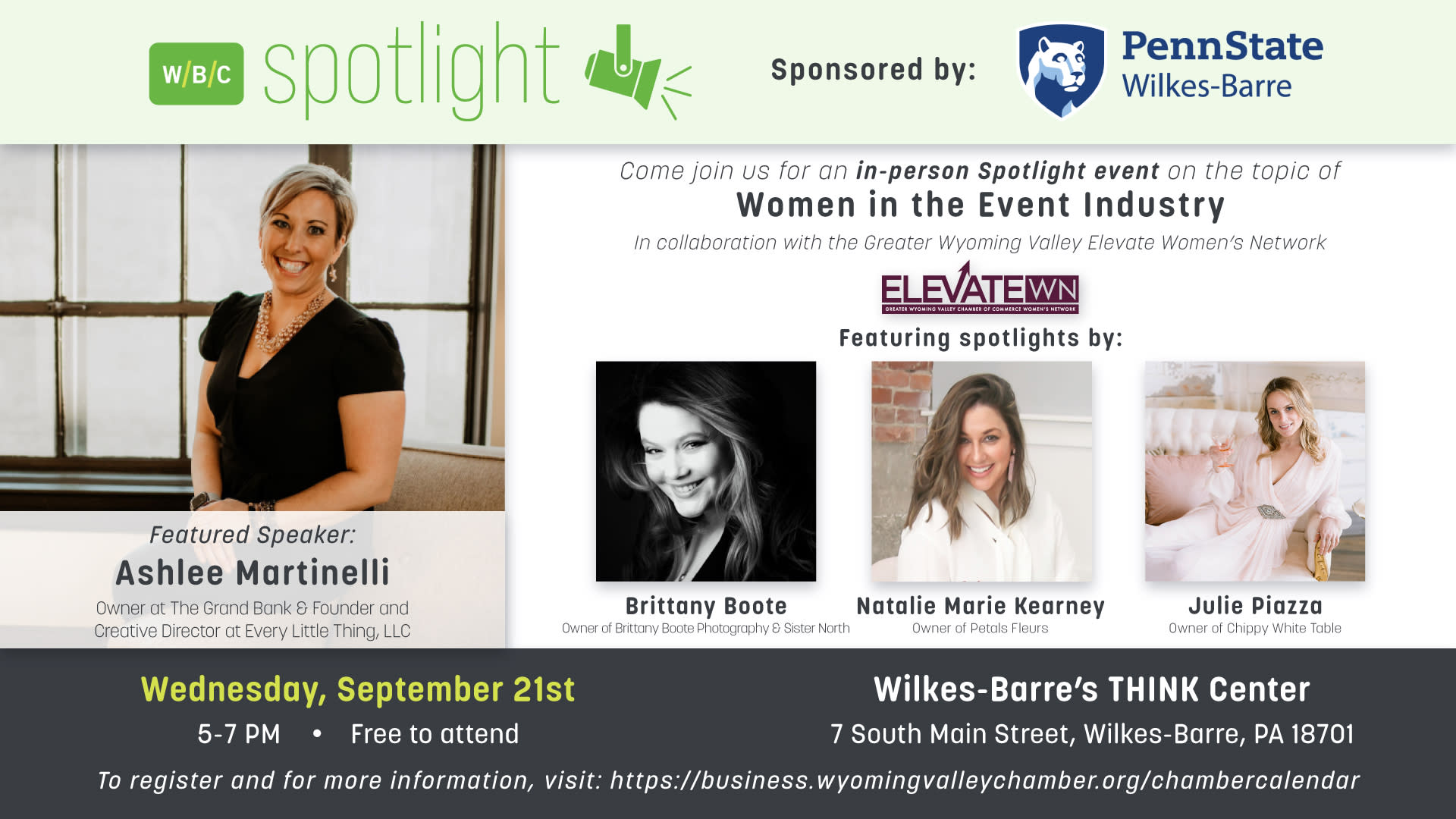 FEATURED SPEAKER: Ashlee Martinelli | Owner at The Grand Bank & Founder and Creative Director at Every Little Thing, LLC
Ashlee Martinelli is the Founder + Creative Director of Every Little Thing, LLC, a wedding + event planning company and the Owner of The Grand Bank, an events venue located in Ashley, PA. Since founding Every Little Thing, LLC in 2015, Ashlee has expanded her business to serve countless venues and clients throughout NEPA. Her Venue Management Program has created many new venues in our area where she now serves as their exclusive planner. She brings a joy for everything organized, beautifully styled, and simplified — Blending these pieces together with innovative creativity. With such success in the planning company, the next natural progression was to create an event space, now known as The Grand Bank.
• 2019 Winner: Best Wedding Planner
• 2020 Winner: Entrepreneur of the Year
• 2020 Winner: Best Venue Manager
• 2021 Winner: Best Wedding Venue
• 2021 Winner: Best Bridal Shower Venue
• 2022 WeddingWire Couples' Choice Award Winner
SPOTLIGHT: Brittany Boote | Owner of Brittany Boote Photography & Sister North
Brittany Boote is a South Wilkes-Barre native who specializes in Wedding Photography. Her affinity for the camera was born as a teenager in the TV & Film industry in Manhattan. She now spends her time photographing weddings of all cultures around the world. She also owns and operates an additional local wedding brand, Sister North. Brittany has been building her business for over five years, winning global achievements and recognition. She continues to dedicate her time and energy into learning, educating, travel, and experiencing cultures to enrich herself personally and professionally.
SPOTLIGHT: Natalie Marie Kearney | Owner of Petals Fleurs
Natalie Marie Kearney is a Physician Assistant turned Floral and Event designer who was voted one of the Top 25 Women in Business. Natalie has grown two successful businesses in her 41 years. Having a Masters degree in Physician Assistant Studies and working as a PA for 15 years helped her fund her first business. Now, Natalie has retired from medicine as her passion for entrepreneurship and drive for fashion and design helped her curate her newest venture over the past five years - Petals Fleurs. Here, Natalie thrives in the floral and wedding industry with her eye for design, love for flowers, and expertise and history in business. Natalie's days consist of meetings, buying, event planning, and design. She has curated a team of fabulous women to work along side her and help bring her visions to life. When Natalie is not exercising her design skills, she's spending time with the loves of her life - her husband, Kevin, and two children, Greyson (5) and Karson (1).
SPOTLIGHT: Julie Piazza | Owner of Chippy White Table
Chippy White Table is a boutique style event rental company based out of the heart of downtown Tunkhannock. Through our collection of carefully curated rental items, we can help transform any space into a beautiful and memorable event! Our team of "Chippy Chicks" will show up to the event space and whip up their Chippy magic with our rentals and design skills so the space becomes completely transformed!
Julie and her mother, Stella, have owned and operated Chippy White Table since 2015. They started the business after having Julie's very own backyard fairytale wedding. They collected vintage and second-hand decor items for the wedding, and afterwards, they had the idea of starting a rental business so they could also help other brides make their day special and unique.
Julie's mother passed the baton to her fully in 2017, but still helps out behind the scenes. When they started Chippy White Table, they had no idea how to be "business women,'' but they dove in and learned as much as they could every day. They consider themselves lucky to have so many clients, fans, and family members who have supported them along the way.
The Chippy White Table showroom, located in Tunkhannock, is offered as a "studio" space where they host small events for 30 guests or less, and also custom designed photo sessions. They meet with event rental clients in the showroom to give them a little taste of what they will be seeing at their event.
Julie hopes that everyone who experiences an event with Chippy White Table carries a little bit of its magic with them!
About Wilkes-Barre Connect: The Wilkes-Barre Connect program helps businesses grow in NEPA. Powered by the Greater Wilkes-Barre Chamber of Business & Industry, Connect features partnerships among the Small Business Development Center at Wilkes University, the Diamond City Partnership, the Institute for Public Policy & Economic Development at Wilkes University, Ben Franklin Technology Partners of Northeastern Pennsylvania, the Family Business Alliance at Wilkes University, and the Allan P. Kirby Center for Free Enterprise and Entrepreneurship at Wilkes University. Wilkes-Barre Connect is housed in Wilkes-Barre's T.H.I.N.K Center, a space made possible by the Invent Penn State initiative. For more information about the Wilkes-Barre Connect Program please visit http://www.wilkesbarreconnect.org/
Images
THINK Center
7 S Main Street



Wilkes-Barre

,

PA

18701

United States



Wednesday, September 21, 2022 (5:00 PM - 7:00 PM) (EDT)
Categories
Wilkes-Barre Connect Events